Handheld SFF SDR Platform provides RF flexibility, performance.
Press Release Summary: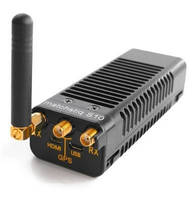 Employing quad-core ARM®Cortex®-A9 (Freescale i.MX6) processor running Linux, 4.4 x 1.6 x 1.1 in. Matchstiq™ S10 supports connectivity via GigE (PoE capable), USB 2.0 OTG, and HDMI and features integrated GPS with 1PPS. Platform is based on Sidekiq MiniPCIe SDR card, with RF transceiver providing independently tunable RF transmitter and receiver covering 70 MHz to 6 GHz as well as RF channel bandwidths up to 50 MHz and Xilinx® Spartan®6 LX45T FPGA. RTC with battery backup is also standard.
---
Original Press Release:

Epiq Solutions Announces the Matchstiq(TM) S10 Handheld Software Defined Radio



SCHAUMBURG, Ill. -- Epiq Solutions, an engineering firm specializing in the development of flexible wireless communications systems, has announced the Matchstiq(TM)S10, their next generation small form factor software defined radio (SDR) platform.  Building on the success of the award-winning Matchstiq(TM)S1 and Z1 platforms, Matchstiq(TM) S10 provides increased RF flexibility, RF performance, and signal processing capacity, in a smaller and lighter package.



The Matchstiq(TM) S10 provides the following features:



--  Based on Epiq Solutions' Sidekiq MiniPCIe SDR card:

-  RF transceiver providing an independently tunable RF transmitter and receiver covering 70 MHz to 6 GHz

-  RF channel bandwidths up to 50 MHz

-  Xilinx®Spartan®6 LX45T FPGA

--  Quad-core ARM®Cortex®-A9 (Freescale i.MX6) processor running Linux

--  Integrated GPS with 1PPS

--  Interfaces include Gigabit ethernet (PoE capable), USB 2.0 OTG and HDMI

--  Real-Time Clock with battery backup

--  4.4" x 1.6" x 1.1"



"Matchstiq(TM) S10 is the culmination of our latest development efforts to deliver a radical improvement in size, weight, and power constrained radio systems, while increasing flexibility and functionality at the same time," stated John Orlando, CEO at Epiq Solutions. "Our Matchstiq product line has been a great success for us over the last three years, and we're excited to evolve this platform and push the state of the art even further."



For customers already developing solutions based on Epiq Solutions' Sidekiq MiniPCIe card, the Matchstiq(TM) S10 provides an ideal small form factor radio platform to enable mobile applications.  When combined with signal processing frameworks such as GNU Radio or REDHAWK, Matchstiq S10 supports countless capabilities including use as an agile point-to-point modem, LTE survey tool, or portable spectrum analyzer.  Development kits are also available for end users who want to create their own custom applications.



The Matchstiq(TM) S10 will start shipping in 2Q 2015. Production orders are currently being accepted.  For more information, please visit http://www.epiqsolutions.com/matchstiq/.



About Epiq Solutions

Epiq Solutions designs and builds state-of-the-art wireless systems for both commercial and government applications. These applications include the detection, classification, and location of radio emitters, as well as real-time processing and decoding of Layers 1, 2, and 3 for numerous wireless radio standards (including 2G/3G/4G cellular). For more information regarding Epiq Solutions' products and services, please visit http://www.epiqsolutions.com.



Contact Information

Lorin Sandler

Director of Sales and Marketing

sales@epiqsolutions.com

847.598.0218

Related