Handheld Rechargeable HID Light offers various lens options.
Press Release Summary: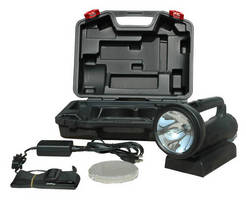 Featuring vibration-resistant, 35 W HID bulb that outputs 3,200 lm with 4300K color temperature, Magnalight R-11 produces beam that reaches 3,000+ ft in standard spotlight configuration. Portable and waterproof unit, powered via Li-ion battery pack that provides 90 min of run time per charge, can connect to external 12-24 Vdc power source and comes with snap-on diffuser lens for converting to flood mode. Available R-11-IRF IR conversion lens lets users convert spotlight to IR output.
---
Original Press Release:

Magnalight.com by Larson Electronics Announces Release of Rechargeable HID Handheld Light and Infrared Lens Filter



The Magnalight R-11 Rechargeable HID Handheld Light from Larson Electronics' combines the extreme high output of HID technology with advanced lithium-ion batteries to produce a very powerful portable light with high durability and long service life. This 35 watt HID light packs a wide range of features and accessories into a single versatile package, resulting in great value as well as powerful effectiveness. Consisting of a rechargeable 35 watt HID light, carrying case, charging unit, flood diffuser lens and shoulder strap, this unit provides feature packed power, durability and convenience that is unmatched by comparable HID lights.

The R-11 rechargeable HID handheld light from Magnalight.com is a portable and rechargeable HID light that provides power and output that matches or exceeds the performance of higher priced HID tactical lights while including more accessories and features. Designed around HID and lithium-ion technology, this powerful handheld light is built to withstand demanding conditions and provide durable and reliable operation that can be counted on with every use. The 35 watt HID bulb in this portable light produces 3,200 lumens and has a color range of 4300K, resulting in an intense light beam with very good color rendering characteristics. Reaching over 3,000 feet in length, the power of this light beam in standard spotlight configuration makes this rechargeable and portable light ideal for R military spotlighting applications as well as utility and emergency services where effective and long range lighting is a must. The HID bulb has no filament, making it much more resistant to vibrations and rough handling than ordinary incandescent bulbs. The lithium-ion battery pack has none of the memory issues of older rechargeable battery technologies and provides 90 minutes of run time on a single charge. Users can charge the battery as little or as much as needed without worrying about things like fully depleting the charge before recharging in order to preserve battery life. This light can be operated from the included rechargeable battery or connected to an external 12-24VDC power source such as a vehicle cigarette plug via an optional accessory cord. This powerful light is waterproof and includes a hard blow mold carrying case, snap-on diffuser lens for converting to flood mode, a standard wall plug charging unit, carrying strap, and a 4400 mah battery which is often not included with other higher priced portable HID tactical lights. Magnalight also offers a specially designed R-11-IRF infrared conversion lens for the R-11 that allows users to convert this high power spotlight to infrared output. The R-11-IRF milspec grade infrared lens filter is constructed of machined aluminum with a borosilicate lens that allows 93% of the light energy produced to pass, resulting in a powerful and invisible 850Nm infrared light beam that is ideal for covert operations and applications. This lens filter is sealed to the front of the lens with a steel bracket and thumb nuts, and a high temperature silicone gasket that prevents light spillage. Combined with the R-11 rechargeable light, this infrared lens filter provides a high power/go anywhere IR light source that is ideal for military, security and law enforcement applications.

"The R-11 when matched against much higher priced HID rechargeable portable lights; has more accessories and features than its higher priced competition," said Rob Bresnahan with Larson Electronics' Magnalight.com. "Operators get an exceptional list of features with this light including a molded carrying case, charging unit, flood diffuser lens and shoulder strap along with a powerful 35 watt HID rechargeable light. "

Larson Electronics' Magnalight.com has provided military and federal agencies with high quality lighting solutions both at home and abroad during the Iraq and Afghanistan wars and carries an extensive inventory of HID spotlights, HID work lights, LED spotlights and 12/24 volt military lights. Visit Magnalight.com to view their entire inventory of lighting solutions or contact them for more information by calling 1-800-369-6671 or 1-214-616-6180 for international inquiries.

More from Software