Handheld Readers withstand tough environmental conditions.
Press Release Summary: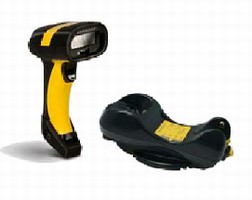 Featuring ergonomic handle, industrial strength PowerScan 8000 Series includes corded and cordless models, standard or Auto Range Laser with range of more than 10 cm, and 2D mega-pixel sensor for omni-directional reading of 1D, stacked, and 2D bar codes. Bi-directional communication protocol, combined with optional display and 3 push-button keypad not only allow operator to receive information, but to also actively interact with host.
---
Original Press Release:

Datalogic Scanning Announces New Family of Rugged Industrial Strength Handheld Readers



The PowerScan 8000 Family of Handheld Bar Code Readers is Designed to Withstand the Toughest Environmental Conditions in Demanding Applications

Eugene, Oregon, February 18, 2008 - Datalogic Scanning Inc. is pleased to announce the release of the PowerScan® 8000 Series of rugged industrial-strength handheld readers which are designed and constructed to withstand the toughest environmental conditions and deliver performance to satisfy the most demanding applications.

A Handheld Bar Code Solution for Every Application!

You asked for it; we designed it with you in mind! The PowerScan 8000 Series of handheld readers come with your choice of
o Corded or cordless models
o Standard or Auto Range Laser with a range of few centimetres to over 10 meters
o 2D mega-pixel sensor for omni-directional reading of 1D, stacked, and 2D bar codes

Outstanding characteristics including ruggedness, durability, ability to withstand extreme environmental conditions, with additional optics and interfaces make this new product suitable for any application in the industrial market. There is now a PowerScan handheld reader for any tough environment.

Great performance is not enough; operator comfort is essential in any scan-intensive application; the PowerScan 8000 delivers unsurpassed ease-of-use with its improved ergonomically designed handle and well-balanced weight. For unmatched feedback in noisy environments, and superior good read feedback from any position, the high-performance Datalogic 3GL(TM) Technology (Three Green Lights) incorporates "GreenSpot(TM)" Technology as well as "Double Good-Read LED(TM)" Technology. The 3GL Technology is a distinctive characteristic of all PowerScan 8000 industrial handheld readers, showcasing the latest innovations in handheld reader technology by Datalogic.

Building on a Heritage of Product Excellence
"Now customers can take advantage of the very best technology the industry has to offer," said Pietro Todescato, General Manager of Handheld Readers for Datalogic Scanning. "The new PowerScan series synthesizes and further enhances the ten years of design, technology, and experience based upon the PowerScan, Dragon(TM), and Lynx(TM) handheld readers. The new reader builds upon our long legacy of success and a demonstrated track-record of proven performance in demanding environments."

Safety and Flexibility
The operator's mobility is crucial in industrial applications, not only to increase efficiency, but to optimize safety. The Datalogic STAR cordless system(TM) increases productivity and flexibility in the work area by offering scalable solutions, from simple point-to-point applications to more complex networks and seamless roaming projects. Both an input and an output device, the powerful bi-directional communication protocol of the PowerScan 8000 handheld reader, combined with an optional display and three push-button keypad not only allow the operator to receive information, but to also actively interact with the host.

Datalogic Scanning has long been a pioneer in cordless handheld technology offering the broadest line of cordless scanners available today:
o Dragon(TM) Mobile Series of industrial handheld readers (1998)
o PowerScan® RF industrial handheld reader (2000)
o Gryphon(TM) Mobile Series of general purpose handheld readers (2000)
o QuickScan® 6500BT general purpose handheld reader (2006)
o PowerScan® 7000BT SRI industrial handheld reader (2007)
o QuickScan® Mobile retail handheld reader (November 2007)
o PowerScan® 8000 Series of industrial handheld readers (February 2008)

Facts about Datalogic Scanning Handheld Readers:
o A Datalogic Scanning bar code reader is installed every 36 seconds.
o 440,000 PowerScan® industrial handheld readers have been sold since 1998.
o 200,000 Dragon(TM) industrial handheld readers have been sold since 2000.
o Over 2.5 million Datalogic handheld readers have been sold since 1998.
o Over 30,000 customers have chosen Datalogic Scanning handheld readers.

For additional information about Datalogic Scanning products, please visit www.scanning.datalogic.com, email scanning@datalogic.com, or call +1-800-695-5700 (toll-free in the USA only) or +1-541-683-5700.

About Datalogic Scanning, Inc.
Datalogic Scanning, Inc. is the recognized #1 worldwide leader in high-performance fixed position retail point-of-sale scanners and the #1 provider of handheld scanners in EMEA (Europe, Middle East and Africa), with the most complete line of general purpose and ruggedized handheld scanners available today.

Headquartered in Eugene, Oregon, Datalogic Scanning, a division of the Datalogic Group, serves multiple industries throughout the retail supply chain and distribution channel as well as manufacturing, government, healthcare, banking and finance sectors with a presence in over 120 countries.

PowerScan and QuickScan are registered trademarks of Datalogic Scanning, Inc. Datalogic is a registered trademark of Datalogic S.p.A. in many countries and the Datalogic logo, 3GL, Dragon, Double Good-Read LED, GreenSpot, Gryphon, Lynx, and the Datalogic STAR cordless system are trademarks of Datalogic S.p.A. All other brand and product names may be trademarks of their respective owners.

More from Cleaning Products & Equipment