Handheld Microscope incorporates 5.0 megapixel camera.
Press Release Summary: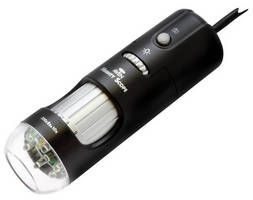 Along with camera featuring ¼ in. color CMOS sensor, Digital Mighty Scope combines adjustable magnification from 10x-200x and image capture in compact inspection instrument with USB interface. Brightness wheel allows fingertip control of 6 white LEDs to suit varied indoor/outdoor environments, and Windows®-compatible software supports capture of still images, interval shots, or video. Latter can be recorded at rates from 15-30 fps. Live/stored comparison capabilities are also standard.
---
Original Press Release:

Aven Digital Mighty Scope Gains 5.0M Resolution and Precision



ANN ARBOR, MI - Aven, Inc. introduces a 5.0-megapixel upgrade of its Digital Mighty Scope handheld microscope, a sophisticated inspection instrument for engineers, scientists, doctors, quality inspectors, lab techs, educators and other professionals.

The new model is the most powerful since Aven introduced Mighty Scope in 2008 to combine adjustable magnification and image capture in a compact instrument with a USB interface. The advanced camera delivers higher-resolution images for more precise parts inspection, assembly quality assurance, research analysis, forensic comparisons and dermatology exams.

Magnification adjusts from 10x to 200x. A brightness wheel allows fingertip control of six white LEDs to suit varied indoor and outdoor environments. The camera has a 1/4" color CMOS sensor.

"Aven Mighty Scope has been popular from the start because it fills the need for lightweight, portable microscopy and imaging," says Mike Shahpurwala, president of the Michigan-based supplier of optical instruments and precision tools. "Engineers on a shop floor or scientists in the field can plug it into any laptop for saving, processing or sharing images."

Software capabilities
Windows-compatible software supports capture of still images, interval shots or video. It includes a measurement tool, image-freeze capability and a compare mode for side-by-side examination of two live images or a live view with a stored one. Video can be recorded at 15 to 30 frames per second, based on resolution.

A Microtouch shutter button means there's no need to tap a computer key, whether Aven's palm-size scope is handheld or mounted on an adjustable metal stand.

Active pixel technology delivers sharp images and accurate color. Automatic white balance and gain control assure optimal image clarity.

Ergonomic design allows comfortable use with either hand.

Applications include electronic assembly, forensic document or currency inspection, crime lab work, precision repairs, warranty claims documentation and quality inspection by printers or textile manufacturers.

Practical applications in other fields

The 5.0-megapixel scope also is handy for jewelers, watchmakers, art curators and appraisers of small valuables. Hobbyists can examine stamps, coins, fossils, stones and other nature specimens, and also compile magnified images.

Aven's Mighty Scope line has six other models, including one with ultraviolet light, near infra-red light, a polarizer and 500x magnification. An analog model also is available, as are a Boom Stand, Flex Stand and Dual-View Stand that holds two units.

For more information, call Aven at (734) 973-0099. A digital catalog is at http://www.aventools.com/sales-info.html.

Visit Aven at Booth E-5272 of the International Manufacturing Technology Show (IMTS) in Chicago from Sept. 10-15, 2012.

Aven, Inc. manufactures and distributes high-performance optical instruments and precision tools for microscopy, inspection and assembly. More than 800 products include video inspection systems, integrated portable microscopes, video borescopes, task lights, stainless steel tools for lab use and precision hand tools such as tweezers, pliers, cutters, screwdrivers, crimpers, knives and alignment tools. Brands include Mighty Scope, iLoupe, iVue, Technik and Accu-Tek.

An electronics innovator since 1983, Aven is located in a high-tech corridor of Southeast Michigan and is the parent company of SharpVue, which designs and manufactures integrated digital microscope technology.

Related