Handheld LED Strobe Lights boost inspection capabilities.
Press Release Summary: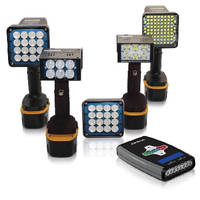 Part of H2LED Series, Models LED1 and LED3 facilitate inspection, maintenance, and troubleshooting in manufacturing and processing plants. Model LED3 is available as fixed-mount light with regular or UV LED diodes. Lights use stroboscopic effect to visually freeze detailed images of flat surfaces or machine parts moving at full production speed. With images, process operators, technicians, and engineers can spot and determine causes of defects and implement repair solutions.
---
Original Press Release:
Unilux Introduces Lighter, Brighter LED1 and LED3 Handheld Strobe Lights
Boost Inspection and Troubleshooting Capabilities; Cut Power and Maintenance Costs

Saddle Brook, NJ --  (http://www.myprgenie.com) -- Unilux has made handheld strobe lights for inspection and maintenance troubleshooting lighter and brighter with the introduction of the LED1 and LED3, the next two members of its H2LED Series. The LED1 replaces the Pocket Pixel, and the LED3 replaces the LED1XS (spotlight pattern) and LED1XF (floodlight pattern). The new lights are five times brighter than their predecessors, which were part of Unilux's original LED lights, and the LED3 will be available as fixed-mount light with regular or UV LED diodes. They join the LED12 handheld strobe light, which debuted last year.

The lights can be used for equipment maintenance and troubleshooting in all types of manufacturing and processing plants and for surface inspection in steel, aluminum, paper and textile mills and in printing, converting and packaging plants.

"Handheld strobe lights have come of age with the completion of our H2LED series," said Mike Simonis, president, Unilux. "Being lighter and brighter than previous handheld strobes, both earlier versions of our LED lights and traditional xenon-based strobes, plant personnel can take them more places more easily, see more details and not have to worry about batteries or lamps dying out at a critical time.

"Maintenance personnel have given us great reviews for the new lights, especially the LED1," he continued. "It's small enough to fit into a shirt pocket, making it so easy to carry around. Our improved design gives them the power of the larger units that were impossible to carry all day, giving them better spot-checking capability for a full shift on a single charge."

Unilux LED strobe lights use the stroboscopic effect to visually freeze detailed images of flat surfaces or machine parts moving at full production speed. Images allow process operators, technicians and engineers to use their knowledge and experience to spot and determine the causes of defects and to implement repair solutions.

"Our new handheld strobes and fixed-mount inspection lights with UV capability continue our trend of getting brighter, lighter and more energy efficient," Simonis said. "The demand for LEDs and LEDs with UV diodes is rising rapidly as customers start to gain more experience with them. The brighter light, especially for UV units, allows us to design smaller, lighter-weight strobe lights enable users to place lights where they can maximize inspection capability. Plus, they can reduce energy consumption by two-thirds and gain all the environmental and reduced-maintenance benefits that come with LED technology."

About Unilux
Unilux Inc., headquartered in Saddle Brook, NJ, has 53 years of experience in designing and manufacturing industrial surface inspection lighting systems for the printing, converting, packaging, metals, papermaking and textile industries. Unilux stroboscopic inspection lights range from handheld, battery-powered units for spot or narrow-web/strip inspection, maintenance and troubleshooting applications to fixed-mounted units capable of inspecting surfaces up to 12m wide. Unilux currently has sales representatives in 58 countries throughout the world along with five service centers. For additional information, contact Unilux, Inc., 59 North 5th St., Saddle Brook, NJ 07663 USA. Phone: 800-522-0801800-522-0801 (US only) or +1-201-712-1266+1-201-712-1266 (Worldwide); Fax: 201-712-1366; email: customerservice@unilux.com  Internet: www.unilux.com.

For Additional Information:
Mike Simonis
Unilux
msimonis@unilux.com
+1-201-712-1266
More from Controls & Controllers