Handheld Label Printer tackles industrial marking jobs.
Press Release Summary: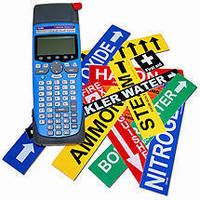 Able to create labels anywhere on job or in field, DuraLabel 2000 prints on ½, 1, and 2 in. supplies and offers automatic text/image auto-size setting feature to facilitate label design. Portable unit, powered via rechargeable battery, integrates 3.25 in. LCD screen, SoftKey menu system, and 122 pre-installed safety symbols and images. Shock-resistant construction also features 2 rows of heating elements to prevent overheating. Ribbons are available in 6 different colors.
---
Original Press Release:

Graphic Products Introduces New Handheld Label Printer



Beaverton, Oregon - May 11, 2009 - The DuraLabel 2000, a new handheld label printer designed to create labels anywhere on the job or in the field, prints on one-half inch, one inch, and two inch label supply. It becomes the latest in the line of industrial DuraLabel brand printers offered by Graphic Products, Inc.

Designed for maximum portability, the DuraLabel 2000 is lightweight and features a 3.25" viewable LCD screen, an intuitive text and image auto-size setting, a rechargeable battery, and a SoftKey menu system for simple navigation and quick label design. It also boasts a rugged, shock-resistant constructional design.

"One of the most important features of the DuraLabel 2000 is the auto-size setting for text and images," said Jeff Dahl, manufacturing operations manager at Graphic Products. "Taking into account the number of lines on the label, the printer automatically sizes text and images to entirely fill the space on the label. This eliminates the need to manually input the size for each line on a label, allowing the customer to by-pass an exhaustive and unnecessary 'guess-and-check' sizing process often required while designing labels using other handheld printers."

The DuraLabel 2000 can handle a wide variety of industrial label printing applications like 5S labeling, pipe markers, instrument identification, rack labeling, electrical panels, directional information, safety information, machinery and equipment, identification marking, and valve tags.

DuraLabel 2000 features include:


122 pre-installed safety symbols and images available for quick label design
Rechargeable battery with a low self-discharge for longer shelf life
Two rows of heating elements to prevent overheating
Superior vertical white space management for increased readability
Preview screen with directional scrolling to show label design to actual size
Save screen to save label designs for future print jobs
Status bar to display quick, screen-to-screen view of current label design settings

"For safety managers, engineers, electricians-anyone involved in facility management and safety-it is important to have an intuitive, up-to-date, and cost-effective label printer that meets label-making demands as efficiently as possible," said Dahl. "The DuraLabel 2000 is that printer."

Supply for the DuraLabel 2000 is currently available in eight colors. Ribbons are available in six different colors. DuraLabel 2000 supply and ribbons are designed to withstand harsh industrial environments, so labels will be long lasting.

Specialty supplies like reflective, repositionable, and self-laminating wire wraps are also available.

The DuraLabel 2000 comes with a rechargeable battery, a battery charger, and cleaning products for the printer and print head. Optional accessories include a hard carrying case and a soft carrying case.

The DuraLabel 2000 is available from Graphic Products, Inc. It may be ordered by calling 1-800-788-5572. For more information, visit duralabel.com/duralabel-2000/index.php.

Graphic Products has been a leading distributor of label and sign printing systems since 1970. They are the manufacturer of the DuraLabel line of sign and label printers, including the industry-leading DuraLabel PRO label and sign printer, and they carry a wide variety of labelers made by other manufacturers. They stock label printer brands such as Brady, Kroy, Brother, K-Sun, Dymo and Varitronics. They also stock a complete selection of labeling supplies, including specialized supplies such as glow-in-the-dark stock, chemical resistant stock, and low-temperature label stock. They also carry supplies for discontinued label printers. Graphic Products specializes in fast, same-day shipping to meet their customers' just-in-time delivery requirements. The Graphic Products web site is located at: http://www.graphicproducts.com/

More from Computer Hardware & Peripherals