Handheld IR Spotlight produces long and focused throw.
Press Release Summary: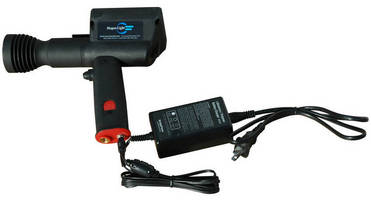 Integrating single 3 W IR LED, Magnalight RL-85-10W1-IR produces focused IR light beam in 850 or 940 nm IR range, depending upon user-chosen configuration, with ~1,800 ft throw and 175 ft width. Rechargeable Li-ion battery delivers 16 hr runtime from 90 min charge without special charging practices. Machined aluminum lamp housing is finished with anodized coating, and ergonomically designed pistol grip shape features non-slip textured nylon handle.
---
Original Press Release:

Magnalight Enhances its Infrared Spotlight Line with the RL-85-10W1 Infrared Night Vision Handheld Illuminator



Larson Electronics' Magnalight has expanded its line of infrared lighting equipment with the addition of the RL-85-10W1-IR handheld infrared spotlight. The RL-85-10W1-IR has an ergonomic design for a sure grip, light weight to reduce user fatigue and contains a rechargeable lithium ion battery for extra long run times and simple, hassle free charging. The pistol grip shape of this rugged infrared spotlight provides comfortable handling and a high impact nylon handle and machined aluminum housing provides rugged durability. The single 3 watt infrared LED in this unit produces light in the 850 or 940 NM IR range depending upon the operators chosen configuration and produces a powerful IR beam with an 1,800 foot throw. This light is designed to provide dependable and long range infrared light for covert applications and offers high power combined with high durability and simple field servicing not found in other IR spotlights.

The RL-85-10W1-IR infrared spotlight from Magnalight produces a well focused IR light beam approximately 1,800 feet long by 175 feet wide. This infrared spotlight is ideal for covertly monitoring activities or identifying persons or objects from extended distances while using nght vision devices. This ruggedly built unit has a handle constructed of high impact nylon and a lamp housing formed from machined aluminum finished with an anodized coating for extreme durability. The RL-85-10W1-IR is ergonomically designed with a pistol grip shape and a non-slip textured handle for good balance and secure user control under adverse weather conditions or in high stress applications like those found in combat. This unit weighs only 14 ounces which helps to reduce the user fatigue associated with operating a handheld spotlight for long periods and lowers the overall weight of equipment troops must carry during deployment. This powerful infrared spotlight contains lightweight, rechargeable, lithium ion batteries which produce a 16 hour runtime from a 90 minute carge without requiring special charging practices to preserve their effective life-span as is commonly required with NiCad batteries. This unit can be charged as little or as much as needed and then used, without any loss of battery life or increased battery degradation. The single 3 watt infrared LED in this unit provides 50,000 hours of lamp life and resists damage from the vibrations and shocks common in tactical situations while a Lexan lens protects the LED lamp assembly from dirt an impacts. This IR spotlight is available in either the 850nm IR wavelength for use with earlier night vision equipment or the 940nm wavelength required by the latest 4th generation of night vision technology. The RL-85-10W1-IR spotllight is impact, water and UV resistant and provides operators with a compact and high durable source of powerful infrared light that requires no tools to service and offers very long run times on a single charge without the need to follow any special charging practices.

"This high powered infrared illuminator can operate on a single charge for 16 hours, which should enabl most war fighters to complete their mission on a single charge," said Rob Bresnahan with Larson Electronics' Magnalight.com. "The pistol grip form factor of this infrared illuminator is familiar, lightweight and highly durable. We offer this pistol grip infrared light emitter with either 850NM LED for standard night vision operation or 940NM LED for US military grade night vision equipment."

Magnalight by Larson Electronics carries a wide array of infrared LED light, infrared light bars, infrared and visible light LED spotlights and offers a comprehensive selection of the latest and best in industrial and commercial lighting technology. View Larson Electronics' full line of LEDs and infrared LED lights by visiting Magnalight.com. Magnalight custom tailor equipment to meet special orders and requirements. Contact Magnalight by calling 1-800-369-6671 or 1-903-498-3363 for international inquiries.

Related