Handheld Instruments provide nondestructive testing.
Press Release Summary: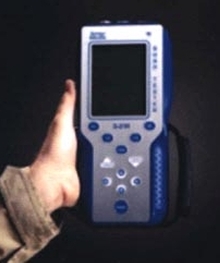 MIZ®-21SR Multimode Tester combines eddy current and bond testing in single unit. It detects fatigue cracking, corrosion, and heat damage. MIZ®-21B Eddy Current Tester can store and recall up to 50 test configurations. User can choose 1 or 2 of 7 different eddy current display modes for clear analysis of inspected area. S-21R Bond Tester offers sondicator and resonance modes. Sondicator mode tests for disbonds or delaminations. Resonance mode provides thickness checks.
---
Original Press Release:
Zetec Introduces Three New Handheld Nondestructive Test Instruments
The MIZ®-21SR Multimode Tester - Eddy Current and Bond Tester in One Instrument The MIZ®-21B Eddy Current Tester - The Most Powerful Handheld Eddy Current Tester The S-21R Bond Tester - An Easy-to-Use Handheld Bond Tester ISSAQUAH, WASHINGTON - Zetec, Inc., a leading supplier of nondestructive evaluation (NDE) equipment introduces the MIZ®-21SR Multimode Tester, a combination eddy current and bond tester in a single, rugged, battery operated, handheld case. With this introduction, one unique and compact instrument offers access to multiple NDE test methods while operating for more than 12 hours on one battery charge. This new unit uses enhanced eddy current technology to detect surface and subsurface fatigue cracking, corrosion, heat damage or to determine material type. In the bond tester sondicator mode, it has the ability to detect impact damage, disbonds, delaminations and other anomalies in honeycomb, composites and other materials. In addition, the MIZ-21 SR includes a built-in conductivity eddy current mode, as well as a multimode ultrasonic resonance function using the bond test utility. Inspections are fast and easy with a high-speed CPU and long-life NiMH battery. The large, high contrast, 240X320 pixel LCD offers the best resolution and sharpness of any handheld NDE instrument. Front-panel controls are sealed to protect from dust and moisture. Controls are easy to operate with a layout that accommodates right-handed or left-handed use. The simple menu layout is designed in a single layer insuring all functions and test parameters are always accessible. The instrument also features a serial interface to a PC. The MIZ®-21B Eddy Current Tester offers all the eddy current technology, packaging and user interface enhancements of the MIZ-21SR. Like the MIZ-21SR, test for cracks, corrosion, heat damage and more. In the standard dual frequency mode, the instrument can be used for multilayer corrosion inspections. Choose one or two of seven different eddy current display modes for clear analysis of the inspected area. Or view a reference signal side-by-side to a live test signal simultaneously, comparing the live signal to the reference. The MIZ-21B can store and recall up to 50 test configurations. The new and amazingly compact S-21R Bond Tester has the power of a benchtop bond tester with the flexibility and convenience of a handheld instrument. Dual test modes - sondicator and resonance - combine the capabilities from two low frequency ultrasonic testers into one unit. Use the sondicator mode to test for disbonds or delaminations in metal and composite materials or use the resonance mode for more specific thickness checks. Advanced features allow the S-21R to detect and quantify a greater variety of anomalies and structural damage with the greatest sensitivity, speed and control available. All three models meet MIL-STD-810 for safety in hazardous environments. The new Zetec family of instruments supports a wide variety of Zetec and non-Zetec probes and high-speed scanners. Hard and soft cases and other accessories are available to fit users' requirements and needs. These instruments are shipped complete with installed rechargeable battery, battery charger/eliminator, charger cable, certification, power cord and adapter cable. About Zetec Zetec, Inc. has grown to be the world's leading supplier of eddy current equipment, supplies, software products and related customer and inspection services. Zetec's unique portfolio provides seamless solutions for all aspects of eddy current technology - from automatic probe manipulation, to probe design and manufacture, instrumentation, software, data analysis, data management and training. Zetec is a privately held corporation headquartered near Seattle in Washington State, USA. With sales through a worldwide network of manufacturer's representatives, Zetec provides support for every aspect of eddy current testing used in mission critical applications in industries such as aerospace, nuclear and fossil energy, component manufacturing and petrochemical plants. More information on Zetec and its products can be found on the World Wide Web at www.zetec.com or through Press Relations at Zetec, Inc., 1370 NW Mall Street, Issaquah WA, USA, 98027 - Phone: 425 392 5316 or Fax: 425 392 2086. Zetec MIZ®-21B, S-21R and MIZ®-21SR Handheld NDE Instruments Background information Introduction NDE (Non Destructive Evaluation) techniques are widely used in many applications and in many industries - to verify the condition of structures and components made of a wide variety of materials. NDE includes such "disciplines" as visual inspections, acoustic emission, IR (heat) detection, liquid penetrant, magnetic particle, x-ray, ultrasound and eddy current. Airplanes and other aerospace structures are complicated constructions made of metal alloys and composite materials. Parts are held together with a wide variety of fastening techniques - including rivets, threaded fasteners and adhesives (bonded structures). As airplanes are operated, they are subject to multiple "attacks": Heat and cold cycles, pressurization and depressurization, dry, wet and humid conditions, vibration, corrosion, chemicals and electric discharges. All of these attacks cause aging phenomena, including stress corrosion, metal fatigue, cracks and disbonding. This aging is a function of time (hours of operation), cycles, load factors and high-stress operations, such as in combat aircraft. The above sets the stage for stringent preventive maintenance programs - using combinations of NDE techniques to help detect flaws in parts of aircraft before they become dangerous or fatal. The new MIZ®-21B from Zetec is a handheld, battery operated eddy current instrument that assists trained NDE inspectors in the detection of such flaws - in metal parts of the airframe or its components. The new S-21R from Zetec is a handheld, battery operated mechanical inspection device operating in the low-ultrasound frequency range, able to detect disbonding of metal layers or delamination of composite materials. The new MIZ-21SR combines both inspection techniques in one instrument - sharing some of the same components and much of the same operation in the same handheld housing. Techniques Reference is made to the basic introductions to eddy current testing and bond testing inspections in the maintenance of aerospace components and structures - authored by Jim Cox, Supervisor of Zetec's Training Department. Why these new instruments? The MIZ-21B is a further development of the highly successful MIZ-21A - introduced by Zetec in the mid-nineties. This new instrument shares the same high-contrast, high resolution LCD display (readable from broad daylight to the darkness of a fuel tank) and long operating hours of the rechargeable battery with its predecessor. The new instrument also has the same wide frequency range of operation (50 Hz - 8 MHz): Allowing superior detection of surface flaws or deeper penetration when operated at lower frequencies. Dual frequency operation is standard with the new MIZ-21 B. Both probe drive and gain are improved resulting in improved detectability of flaws. Also new is the cast aluminum shell - providing superior mechanical protection and EMI shielding. The new S-21R is radically different from its predecessor - the S-9 and S-9R. Packaged in the same new case as the MIZ-21B, the reduction of weight and size are obvious. This size and weight reduction allows users much easier access to the often difficult to reach areas of complicated airplane structures. Zetec now offers a combination of both instruments in a single handheld, battery-operated package - the new MIZ-21SR Multimode Tester - for substantially less money than the sum of one MIZ-21B and one S-21R. Combining eddy current and bond testing capabilities in one, it allows users a cost-effective and powerful combination of both techniques while addressing the maintenance and inspection needs presented by modern airframe construction. In this instrument, the user interface and menu structure are virtually identical for each mode of operation, allowing for short learning curves and quick familiarity. NDE Excellence Worldwide
Zetec, Inc.
1370 NW Mall Street, PO Box 140
Issaquah WA 98027-0140 USA
Phone +(1) 425-392-5316 Fax +(1) 425-392-2086
www.zetec.com
More from Mechanical Power Transmission