Handheld Gap Measurement Device features sensor head with Wi-Fi.
Press Release Summary: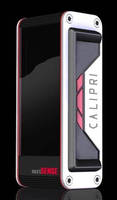 Targeting automotive industry, CALIPRI enables testing of gaps and hem edges without use of mathematical approximation methods. Ergonomic and portable instrument measures object from various perspectives to record actual contour; gaps and hem edges are recorded in full and measured accurately by swiveling device. Preprocessing of recorded profile data occurs in sensor head, and data can be transmitted via Wi-Fi® to output device for detailed analysis.
---
Original Press Release:

No Cable - Great Functionality: Wireless Gap Measuring Makes Body Construction Easier and Safer



The portable CALIPRI profile measurement device gets a sensor head with WiFi



Graz — The new sensor of the CALIPRI gap measurement device is cable-free and ergonomically optimised. The testing device for the automotive industry developed by the Austrian company NextSense is famous throughout the world for testing gaps and hem edges without using any mathematical approximation methods. Now the specialist in optical sensors has once again made a fundamental improvement to how the measurement device is used: Instead of communicating via inconvenient cables, the sensor now uses WiFi. An ergonomic redesign also means that it now fits even more securely and comfortably into the hand. Its functionality has also been increased by releasing a software update at the same time: Derivatives of a car line can now be displayed clearly in one measurement plan, and centrally created plans can be easily distributed between sites and production steps.



The evaluation of gap and flush in body construction is taken for granted by premium automotive manufacturers, but the precision measurement devices required to do this far less so. This is because complex body structures make extremely high demands on measurement technology. The introduction of CALIPRI by the Austrian specialist in optical sensors, NextSense GmbH, in 2010, changed this situation: Instead of the normal extrapolation of profile data based on assumptions, which has been used up until now, this measurement device measures the object from a number of perspectives in order to record the real contour. Gaps and hem edges are recorded in full and measured accurately by simply swivelling the device. The measurement device is now even easier to use thanks to its wireless connection and optimised ergonomics.



Fair measuring

You can test this new sensor first-hand at the 29th Control trade fair which takes place at the beginning of May in Stuttgart, Germany. In terms of what the users can expect, Clemens Gasser, Managing Director of NextSense, explains: "CALIPRI is used by premium automotive manufacturers all over the world on a daily basis to assess gaps and evaluate hem edges. Quality engineers often have to test all the different bodies for hours on end. Our innovation of being able to move the sensor head independently from the output unit, i.e. a desktop PC or tablet, will make a huge difference in terms of increasing mobility and therefore also achieve even greater acceptance." The key to enhancing the successful CALIPRI measurement device is the preprocessing of the recorded profile data in the sensor head. This data – now reduced in volume – can then be transmitted in a matter of seconds via WiFi to the output device, where it can be analysed in detail. In fact, the engineers at the Austrian innovation leader not only increased mobility, but also redesigned to complete ergonomics of the sensor. It now fits in the hand perfectly, even in the most difficult places to access, enabling users to take measurements accurately and without experiencing fatigue.



Function follows form

As part of a well-coordinated development process, NextSense has managed to combine the enhancement of its hardware with an extensive software update. This gives users a number of new options, as Clemens Gasser reports: "Measuring processes are now easy to present visually. For example, derivatives, such as notchback or hatchback, can be created as variants of one measurement plan and selected at the click of a button. In addition, our developers have created a new file format which allows the central management of measurement plans and the transfer to other CALIPRI devices – meaning that new or modified plans can also be rolled out to geographically widespread production sites in a coordinated manner."



All in all, the newly launched version of the CALIPRI profile measurement device represents a well-thought-out enhancement which further improves the mobility, usability and functionality of this tried and tested device.



NextSense will present the new CALIPRI sensor for the first time at Control 2015 from 5th to 8th May 2015 in Stuttgart (hall 5, stand 5422).



About NextSense GmbH (as at February 2015)

NextSense GmbH offers laser-based optical sensors, contact-free profile measurement devices and surface inspection systems for various industries in a rapidly growing market. In addition to a number of well-known railway operating and supply companies (including DB, ÖBB, SBB, SNCF, Siemens, Bombardier and Alstom), NextSense customers also include automotive and steel companies such as Daimler, Audi, BMW, Magna-Steyr and voestalpine. The high-tech company is a spin-off of the Austrian research company Joanneum Research and currently employs 45 members of staff at the site in Graz, Austria.



Contact NextSense:

NextSense GmbH

Straßganger Straße 295

8053 Graz, Austria

T +43 (0) 316/232400 - 0

F +43 (0) 316/232400 - 599

E office@nextsense.at

W http://www.nextsense.at

More from Health, Medical, & Dental Supplies and Equipment