Handheld Environmental Instruments Added to Mako Industries Rental Portfolio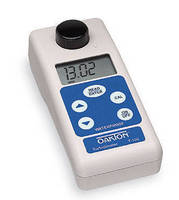 (Anaheim, CA) Mako Industries has recently introduced a brand new inventory of handheld environmental monitoring instruments for rental anywhere within the United States.

In response to customer requests, Mako is pleased to announce that it is adding Field Instrument Rental to its ever expanding product portfolio. "Mako Industries rents a variety of full scale soil and groundwater remediation and treatment systems," says Brendan Coyne, Technical Sales at Mako Industries. "It is a natural progression for the company to offer this value added service to our customers as these instruments go hand-in-hand with the types of full scale treatment systems we sell and rent on a daily basis. Mako Industries wants to be a one stop shop for remediation system and hand-held instrument rentals. "

Mako Industries rental inventory features brand new field instruments and equipment ready to rent. Equipment comes pre-calibrated, cleaned and supplied with the accessories needed for field operation. What's more, the new equipment is state-of-the-art, featuring the latest technologies available for instruments of their type.

Instruments include:

Water Quality Equipment

Horiba U-53 w/flow cell

YSI 556

Oakton Turbidity Meter

Groundwater Pumps

Grundfos 2" Pumps

Control Box (standalone)

Water Level Meters

Solinst WLM

Interface Meters

Solinst with I/F Probe

Gas Analyzers

QRAE II

PID/FIDs

MiniRae II

and more, all available for short or long term rental periods.

Overnight shipping is available within the United States. "Our geographical location means that a consultant or scientist servicing a site in New York, Illinois, Florida or Texas can call Mako at 5pm their local time and Mako Industries will still have two or three hours to put the order together and have it shipped overnight to the customers doorstep," Coyne added. "This service should come in handy for a lot of people trying to work under a tight schedule or in areas of the country that do not have a local supplier".

Mako Industries is a leading manufacturer of industrial quality, turnkey remediation systems for the environmental industry. Mako Industries has earned a reputation for producing quality systems that are reliable and efficient. The company designs, creates, sells, rents and services all types of industrial remediation systems, from water treatment equipment to soil remediation systems. Additionally, Mako Industries has a large fleet of rental equipment available. It's Field Services Group includes a fully staffed team of service technicians available to industry.

For further information on Mako Industries, please contact Mako Industries at 714-632-1400 or visit its website at www.makoindustries.com.

More from Electronic Components & Devices