Hand Tools install rivets at 1.2 sec each.
Press Release Summary: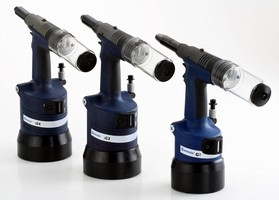 Hydro-pneumatic Avdel® Genesis® nG1, nG2, nG2s, nG3, and nG4 installation tools weigh between 3.3-5.0 lb with pull forces that vary from 1,350-4,200 lbf. They include piston return spring as well as integrated cycle counter that tracks working strokes and alerts operators to maintenance schedules. Air supply shutoff can be controlled by trigger and safety feature ensures that with stem collector removed no spent stems are ejected rearwards.
---
Original Press Release:

Avdel Launches Advanced Line of Genesis nG Handtools



Welwyn Garden City, UK, July 4th, 2007 - Avdel® has introduced lightweight Genesis® nG hand-tools with advanced features that increase reliability, ergonomics, productivity and service over the models they replace.

The new hydro-pneumatic Avdel® Genesis® nG1, nG2, nG2s, nG3 and nG4 installation tools are applicable in assembly operations that use breakstem rivets and lockbolts in automotive, vehicle manufacturing, construction and general industry. Avdel® Genesis® nG handtools weigh between 1.5 kg and 2.28 kg (3.3 to 5.0 pounds), with pull forces that vary between 6.0 kN to 18.68 kN (1,350 to 4,200 lbf).

The new tools are stronger and faster. Enhanced safety, increased productivity and improved ergonomics were key to their development.

New features include an additional piston return spring that reduces installation rates to 1.2 seconds per rivet and an integrated cycle counter that tracks working strokes and alerts operators to maintenance schedules.

A soft rubber grip reduces operator fatigue. The air supply shutoff can be easily controlled by the trigger. This contributes to energy saving and noise reduction. A new safety feature ensures that with the stem collector removed no spent stems are ejected rearwards.

Avdel® Genesis® nG handtools feature impact-resistant plastic bodies and heavy-duty rubber bases - which give benefits especially in demanding assembly environments. Additional steel tie rods securely connect the air cylinder components to the tool head and remove structural loads from the body. The introduction of bearings into the head assembly reduces component wear and extends tool life.

Avdel®, an Acument(TM) Global Technologies company, is a leader of blind-fastening products and associated installation tools. Thanks to a long period as a technology leader, Avdel's range of blind-fastening technologies is one of the widest available in the market. Avdel offers its customers world-wide availability with production facilities and sales networks in Europe, America and Asia/Pacific.

For More Information: Please email Avdel at infoavdel@acument.com

www.avdel-global.com

Timothy G. Weir, APR
Director, Communications
Acument(TM) Global Technologies
(248) 813-6329 office (248) 813-6381 fax
(248) 568-9524 mobile
tweir@acument.com
www.acument.com

More from Machinery & Machining Tools