Hand Tools facilitate removal of damaged studs and nuts.
Press Release Summary: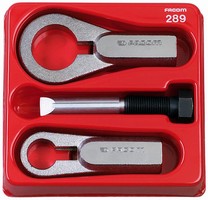 Turned with wrench or ratcheting tool, External Cam/Knurl-Type Stud Extractor has internal knurled wheel that grips stud so that it can be loosened. It works on bolts with rusted, corroded, or stripped threads. Internal Cam/Roller-Type Stud Extractor loosens stubborn studs with tight-gripping cam assembly. Using hardened chisel point screw, Nut Splitters remove frozen, corroded, or rusted nuts by breaking them into removable pieces without harming bolt.
---
Original Press Release:

Stanley Proto Announces Several New Extractor Tools



New tools take the sweat out of removing damaged studs and nuts.

Conyers, GA September 7, 2007-Stanley Proto has expanded its line of extracting tools with several new Stud Extractors and Nut Splitters. These time-saving tools are used to remove broken, rusted, painted over, stripped, rounded and otherwise damaged fasteners. It's easier and faster to remove a damaged fastener with an extractor designed for the job than it is to try to remove a damaged fastener with regular tools.

New additions to the line include two types of Extractors and one type of Nut Splitter.

The External Cam/Knurl-Type Stud Extractor looks like a standard socket from the outside, but have knurled wheel inside. When the extractor is placed over a stud and turned, the wheel grips the stud so that it can be loosened. It's ideal for bolts with rusted, corroded or stripped threads. It can be turned with a wrench or ratcheting tool. The tool comes with either a 1/2 in. or a 3/4 in. drive, and can be used to loosen studs ranging in diameter from 5-27 mm and from 3/16 in. to 2-5/16 in.

The Internal Cam/Roller-Type Stud Extractor is a great tool for loosening particularly stubborn studs. Turning the extractor with a ratchet or wrench causes the cam assembly to engage the stud. The more force the user puts on the ratchet, the tighter the grip. This reduces the chance of slippage as more pressure is applied. The tool has a 1/2 in. drive and is available in eight sizes that can be used on stud diameters ranging from 6-16 mm and from 1/4 in. to 5/8 in.

Nut Splitters are designed to remove frozen, corroded or rusted nuts that just won't budge. The user places the splitter over the nut and turns the hardened chisel point screw till the nut breaks away from the bolt. The tool is designed to break the nut into easily removed pieces without damaging the bolt that the nut is fastened to. It can be used to split nuts as large as 46 mm or 1-13/16 inches.

About Stanley-Proto

Stanley Proto Industrial Tools is celebrating its 100th anniversary in 2007, having grown from a small machine shop to a worldwide supplier of durable, high-quality tools. Our tools are developed according to strict ergonomic standards, with features that let users work faster and easier, including enhanced shock absorption and reduced slip. Markets including auto, steel, and airplane manufacturing plants, chemical plants, refineries, general manufacturing, transportation, and fleet maintenance for trucking, transit, and aircraft. For more information call 800-800-TOOL, or go to www.stanleyproto.com.

Company Contact Information

Stanley-Proto
2195 East View Parkway, Suite 103
Conyers, Georgia 30014
800-800-TOOL
770- 787-3800
www.stanleyproto.com
stanleyproto@stanleycustomersupport.com

E. (Lenny) Acuna
Project Coordinator- Stanley
Direct Fulfillment
4 Applegate Drive
Robbinsville, NJ 08691
609-208-2684
609-208-0922 - fax
elinore.acuna@directgroup.net

More from Fluid & Gas Flow Equipment