Hand Tool cuts and strips 1 and 2 mm fiber and cable.
Press Release Summary: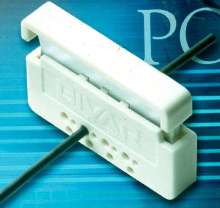 Designed for cutting or stripping plastic optical fiber (POF) and flexible light pipe (FLP) cabling, palm-sized HandyPro Fiber Cutter(TM) is molded from ABS plastic. It cuts 1 and 2mm fibers, including native or sheathed fiber and glass cabling, utilizing integral stainless steel blade. Tool, measuring 1.75 x 1.12 in., accurately strips fiber sheathing or cuts fibers while fitting comfortably in user's palm.
---
Original Press Release:

New Palm-Sized Fiber Cutter Offers Convenience for Cutting or Stripping 1mm and 2mm Plastic Optical Fiber or Flexible Light Pipe Cabling


Irvine, CA, May 28, 2004 - Designed exclusively for cutting or stripping plastic optical fiber (POF) and flexible light pipe (FLP) cabling, a new palm-sized Fiber Cutter is now available from BivarOpto(TM), the Optoelectronics Division of Bivar, Inc.

Molded from ABS plastic, the miniature HandyPro Fiber Cutter(TM) measures only 1.75" x 1.12" and accurately cuts 1mm and 2mm fibers, including native or sheathed fiber, or glass cabling, utilizing an integral stainless steel blade and precision alignment to accurately strip fiber sheathing or cut fibers, fitting comfortably in the palm of the hand.

Anthony Vilgiate, Vice President, Strategic Business Development at Bivar, stated, "many of our newest customers have requested a simple, yet accurate way to strip or cut optical fiber cable or Bivar's flexible light pipes. This small unit provides a convenient way for development engineers or techs in the field to get the job done, when more sophisticated stripping or cutting equipment isn't readily available."

Stripping of POF or clad fibers is achieved by simply rotating the cutter around the fiber, resulting in a smooth score of the sheathing without cutting or damaging the native fiber. By applying even pressure to the upper section of the cutter, the cutting function is precise and smooth, preparing fiber for proper insertion into receptacles such as BivarOpto SMPT Series surface-mount LEDs, designed expressly for flexible light pipe insertion into the integral LED/housing.

The HandyPro Fiber Cutter(TM) is available from stock, priced at $2.95 each when ordered in 50-piece quantities. For more information, contact Bivar, Inc., at 1-800-772-2377, or visit www.bivar.com.

About Bivar, Inc.

Bivar has established an industry-leading position in the electronic PCB assembly and hardware industry, providing low-cost solutions for problems associated with the assembly and manufacturing process. Founded in 1965, Bivar has continually developed unique designs for the installation of PCB-mounted devices and the packaging of PCBs in enclosures and systems. In January 2004, Bivar opened "BivarAsia", with manufacturing and customer service facilities in the city of Dong Guang, in the People's Republic of China, expanding their global capabilities with immediate product and service support. Bivar's Optoelectronics Division, BivarOpto(TM), features the world's largest selections of LED mounts and assemblies, and innovative LED devices, while the Bivar Enclosure and PCB Assembly Hardware Group provides an extensive selection of permanent mounts and wash-away spacers, PCB packaging products and hardware for use in the manufacturing process. Bivar obtained IS09000 certification in 1998 supporting the company's commitment to high quality products and customer service.

For more information or to receive a catalog, contact Bivar, Inc., 4 Thomas, Irvine, CA 92618-2593; Tel: (949) 951-8808; Fax: (949) 951-3974; e-mail: Info@Bivar.com; Internet: www.bivar.com.

More from Thermal & Heating Equipment