Hand Sanitizer Lotion kills 99.99% of germs on contact.
Press Release Summary: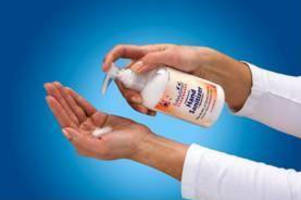 SafetySmart(TM) Hand Sanitizer Lotion contains broad spectrum of anti-microbial agents that provide antimicrobial activity on skin surface for up to 2-4 hr after single application. It includes various antimicrobial agents, including benzalkonium chloride, holds up even after hand washing, and includes Vitamin E and other moisturizing elements. FDA-compliant, it is hypoallergenic; nontoxic; and alcohol, fragrance, and petroleum-free.
---
Original Press Release:

JNJ Industries' New SafetySmart(TM) Hand Sanitizer Lotion Provides Long Lasting Antimicrobial Protection



Franklin, Massachusetts, USA - JNJ Industries' new SafetySmart® Hand Sanitizer Lotion kills 99.99% of germs on contact and provides continuous antibacterial protection for up to 2 to 4 hours after a single application. SafetySmart Hand Sanitizer Lotion is ideal for all individuals or workers that come in contact with harmful germs and bacteria, or where the potential for cross-contamination must be minimized.

SafetySmart is a specially formulated skin antiseptic that contains a broad spectrum of anti-microbial agents that and continue to provide antimicrobial activity on the skin surface after it is applied. It is alcohol and fragrance free. Alcohol based sanitizer solutions dry out and de-fat the skin and, once dried, provide no further antimicrobial action. SafetySmart Hand Sanitizer Lotion can be reapplied several times over the course of a day and will not dry out or crack the skin like alcohol based gels. SafetySmart Hand Sanitizer lotion contains Benzalkonium Chloride, an antimicrobial compound that has been used in the medical industry for more than 50 years and is proven safe and effective. This agent and other compounds remain on the skin to provide long lasting antimicrobial protection.

SafetySmart has been proven in clinical and laboratory tests to be extremely effective in killing 99.99% of common germs and bacteria that may cause illness or infection. Once applied, SafetySmart provides protection until skin naturally exfoliates, and will hold up even after regular hand washings. SafetySmart nourishes and conditions the skin as well; it is Vitamin E enriched and contains moisturizing elements (emollients) to keep skin soft and supple. SafetySmart is hypoallergenic, non-toxic, alcohol free, fragrance free, and petroleum free; it complies fully with FDA requirements.

For more information, visit www.jnj-industries.com, or contact JNJ Industries, Inc., 290 Beaver St., Franklin, Massachusetts, 02038 USA, Tel. : 508-553-0529; Fax: 508-553-9973; Outside the US: 001-508-553-0529

More from Computer Hardware & Peripherals