Hand Pump provides four-in-one capability.
Press Release Summary: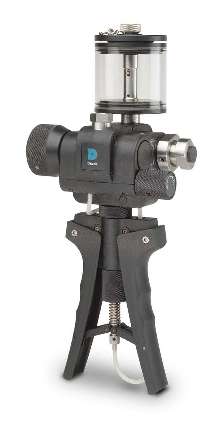 Model PV411A multi-function hand pump offers pressure control, ability to operate with high viscosity fluids, large volume reservoir option, and tamper-proof, field selectable pressure relief valve. Hydraulic pressures can be generated to 10,000 psi as well as pneumatic pressures to 600 psi, vacuum to 28.5 in. Hg, and draft range pressures. Vacuum priming function removes trapped air from within system.
---
Original Press Release:
GE Announces Next Generation, Multi-Function Hand Pump

New Fairfield, Connecticut - June 2, 2003 - - GE Druck, a unit of GE Industrial Systems and the General Electric Company (NYSE: GE) and a leading provider of precision pressure sensors and related test/calibration instruments, announced today the release of the new PV411A, the second generation of multi-function hand pumps.

The new PV411A is used in a variety of applications including field calibration of pressure gauges, switches, transmitters and transducers, and provides a four-in-one capability that distinguishes it from all other pumps on the market. This new model now boasts exceptional fine pressure control, the ability to operate with high viscosity fluids, a new large volume reservoir option and a tamper proof, field selectable pressure relief valve.

This field-tested and time proven hand pump is the single source for multiple tasks. Hydraulic pressures can effortlessly be generated to 10,000 psi as well as pneumatic pressures to 600 psi, vacuum to 28.5 inhg and draft range pressures, all in a single pump.

Lightweight, yet rugged, the versatile 411A features a vacuum priming function, which removes trapped air from within the system, a common problem associated with conventional hand pumps.

About GE Druck

GE Druck, as part of GE Industrial Systems' Measurement business, is a manufacturer of precision measuring and test equipment with subsidiaries throughout America, Europe and the Far East. The products range includes pressure sensors, portable calibrators, calibration standards and air data test systems.

About GE Measurement

GE Measurement is an industry leader in the design and manufacture of precision temperature, humidity and pressure sensors, field calibrators and measurement instrumentation. With operations around the world, GE Measurement develops technologies and solutions using thermal validation, dew point measurement, gas flow measurement, control circuit protection, liquid level detection, and microstructure design for products and services in applications such as environmental, marine, meteorology, aerospace, defense, medical, pharmaceutical, biotechnology, automotive, industrial, commercial, petrochemical, power generation and transportation.

About GE Industrial Systems

GE Industrial Systems spans the globe as an industry leader in integrated industrial equipment, systems and services. The business brings to customers the latest technological products used to distribute, protect and control electrical power and equipment, and provides innovative product and service solutions for commercial, industrial, residential and utility applications. For more information visit the website at http://www.geindustrial.com/presscenter/pressroom.htm.

For more technical information on GE Druck, contact:

Tom Dietz

Tel: +1.203.746.0400, ext. 353

Email: dietzt@druck.com

For more information on GE Measurement, contact:

Gary Pacilio

Tel: +1.732.287.2870

Email: gary.pacilio@ge.com
More from Food Processing & Preparation