Hand Pack Station increases ergonomics and efficiency.
Press Release Summary: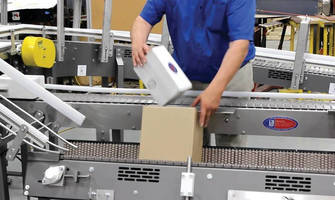 Built to customer specifications and able to integrate with equipment, mild steel hand pack station with rod chute for cases and cartons reduces load of manual applications while providing semi-automatic, ergonomic solution. Features include adjustable tilt bed for empty cases, 2 operator-controlled pneumatic stops, 2 load stations, and automatically triggered upstream pneumatic 90° pusher. Foot rests, hydraulic or pneumatic height adjustments, and lean-over accessibility are available.
---
Original Press Release:

Hand Pack Conveying Perfect for Contract Packagers!



Winneconne, WI - Multi-Conveyor (www.multi-conveyor.com) - Multi-Conveyor recently build this mild steel hand pack station with rod chute for cases and cartons. By providing the optimum hand-pack station, these systems will lessen the load of your current manual applications while providing a semi-automatic, ergonomic, cost effective solution.



This system includes a tilt bed for the empty cases that can be adjusted to best facilitate hand placement of the cartons into the cases. The two pneumatic stops are operator controlled and hold the cases in position at the two load stations. The operators can then release the cases downstream, which automatically triggers the upstream pneumatic 90 degree pusher to deliver an empty case down the chute to the first operator position.



Built to customer specifications, Multi-Conveyor can ease employee physical burdens by incorporating foot rests, hydraulic or pneumatic height adjustments and lean-over accessibility. Hand-Packing ensures that your people, your products and your packaging line are assembled in the most efficient way possible.



Whether mild-painted or stainless steel construction, including belting and sanitary requirements, turnkey systems, or specialty requests, Multi-Conveyor can integrate with your equipment to assure efficient product transfer.



About Multi-Conveyor

Multi-Conveyor has successfully produced standard and custom conveyor solutions for Integrators, OEM's, and end-users across multiple markets and industries for over two decades. Specializing in conveyors that assist in packaging food, dairy, pharmaceutical, chemical, industrial, automotive and material handling industries, our customers report they select Multi-Conveyor for concept/design, engineering skills, high-quality product, best value and prompt delivery schedules. Multi-Conveyor excels in stainless steel and mild steel construction conveyors for table top chains, modular plastic belts, and fabric belting, are licensed to build Intralox ARB solutions, and provide many types of elevators, lowerators and accumulators. We also design and provide the control devices, systems and panels with our in-house control department. For more information about Multi-Conveyor, or to get a quote on your next project, call toll-free 1-800-236-7960, e-mail 

[email protected]

or visit www.multi-conveyor.com.



View Video of this equipment at: https://www.youtube.com/watch?v=4C3TBhONtwE



Multi-Conveyor LLC

P O Box 10

Winneconne, WI 54986

1-800-236-7960



[email protected]



www.multi-conveyor.com