Hand Lamp features 10 W color LED bulb, 30 ft cord reel.
Press Release Summary: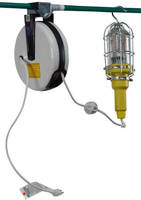 Waterproof and vaporproof VPLHL-LEDC-GR30 can operate from 120–277 Vac or 9–32 Vdc and is available with red, blue, green, amber, or white LED. Resistant to damage from impacts and drops, solid-state bulb produces 1,050 lm with operating temperature of 55°. Rubberized, insulated handle promotes safe and secure grip, while stainless steel wire guard enclosure protects glass dome. Able to illuminate area of ~8 ft wide in all directions, drop light comes with reel designed for 16/3 AWG SOOW cable.
---
Original Press Release:

Larson Electronics Releases a Hand Lamp with 10 Watt Colored LED Bulb and Cord Reel



Kemp, Texas 75143

Longtime leader in commercial and industrial grade lighting equipment Larson Electronics continues its commitment to providing high grade lighting equipment to specialty markets with the release of a drop light equipped with a 10 watt colored LED bulb and a 30' cord reel.



The VPLHL-LEDC-GR30 LED trouble light from Larson Electronics is waterproof and vapor proof and is constructed to prevent the intrusion of water and moisture into the handle and head when used in wet locations. The 10 watt LED bulb included with the drop light produces 1,050 lumens of light with an operating temperature of only 55°. The solid state LED bulb has no filament, making it resistant to damage from impacts and dropping. The drop light features a rubberized, insulated handle to provide a safe and secure grip and a stainless steel wire guard enclosure to protect the glass dome. These LED drop lights have improved qualities compared to the incandescent models with higher foot candle light output, cooler operation and better light quality. The cool operation, good light color and evenness of coverage makes these lights ideal for a wide variety of close quarter work and inspection activities.



The VPLHL-LEDC-GR30 is available with an optional red, blue, green, amber, or white colored LED bulb that produces 1,050 lumens of light. This lamp is available to operate on 120-277 volts AC, as well as 9-32 volts DC. The cord reel that is provided with this unit is designed for a lift/drag of up to 30 feet of 16/3 AWG SOOW cable. This reel is installed with 30 feet of active travel plus an additional two feet for safety wrap and hook up. The slip ring enclosure is built to NEMA standard and has thee conductors; two live and one ground. The reel is UL listed and is constructed of durable steel, has a white powder coat finish and includes a ball stop ratchet with a lockout feature. This hand lamp can illuminate an area approximately 8 feet wide in all directions, is certified waterproof and vapor proof, and is suitable for use in wet areas.



"The included reel with 30 feet of cord reduces the risk of trip hazards in the work space eliminating cords being strewn across the floor," Rob Bresnahan with larsonelectronics.com said. "The solid state LED technology makes the light vibration resistant and the 50,000 life hour rating enables operators to avoid re-lamping for more than 5 years."



Larson Electronics carries an extensive line of explosion proof LED lights, LED work lights, light towers, intrinsically safe lights, portable work lights and industrial grade LED area lights. You can view Larson Electronics' entire line of industrial grade lighting by visiting them on the web at LarsonElectronics.com. You can also call 1-800-369-6671 to learn more about all of Larson Electronics' lighting products or call 1-214-616-6180 for international inquiries.

More from Optics & Photonics