Hand-Held RF Field Strength Meter is battery operated.
Press Release Summary: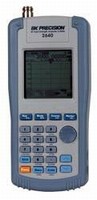 Measuring 4 x 1.8 x 9 in. and weighing less than 2.0 lb, Model 2640 features frequency range of 100 kHz to 2,000 MHz, noise floor of -110 dBm to detect weak signals, and basic spectrum analyzer functionality. It has 2 GHz frequency counter, phase-locked loop for precise frequency tuning, detachable antenna, and back-lit display. Meter supports RS-232C serial communication, detects wide band and narrow band FM, AM, and SSB signals, and scans and displays up to 160 channels.
---
Original Press Release:

Hand-Held RF Field Strength Meter Has Frequency Range of 100 kHz to 2.0 GHz



B&K Precision Corporation's Model 2640 is a battery operated, hand-held RF Field Strength Meter capable of measuring RF levels and electric field strength. The synthesizer-based design provides reliable measurements across a wide reception range of 100KHz to 2000MHz, a remarkably low noise floor of -110 dBm to detect weak signals, and basic spectrum analyzer functionality. Priced at only $2,250.00, the hand-held RF Field Strength Meter is ideal for users to test, install and maintain Mobile Telecommunications Systems, Cellular and Cordless Phone, CB Paging, Paging Systems, Cable and Satellite TV Systems, as well as antenna site measurements and maintenance.

The Model 2640 provides field technicians and engineers with a cost-effective measurement tool for basic signal investigations at only a fraction of the cost of a full-featured conventional spectrum analyzer. The instrument's user-friendly interface combined with convenient presets such as predefined filter settings and other special functions (e.g. squelch) commonly used in analog communication systems make the 2640 easy to use.

The instrument supports RS-232C serial communication and comes with AK2640 software and interface cable that allows full control of the Model 2640 via a PC through the RS-232 interface. The software allows the saving, recalling, and analyzing of current and saved waveforms. The Model 2640 can save up to 100 waveforms and states in its internal memory.

The Model 2640 Handheld RF Field Strength Meter offers a number of outstanding features that facilitate quick and easy measurements:

o Hand held and battery operated portability
o 100KHz to 2GHz Measurement range
o Built-in 2GHz frequency counter
o Detects wide band and narrow band FM, AM & SSB signals
o Phase-locked loop for precise frequency tuning
o Up to 160 channels may be scanned and displayed
o Detachable antenna included
o Back-lit display
o Storable setups and displays
o RS-232 Interface

Compact and light weight, The instrument weighs less than 2.0 pounds including battery, and measures a compact 4" wide, by 9" high by 1.8" deep, Priced at an MSRP of $2,250.00 and available for immediate delivery, the Model 2640 Handheld RF Field Strength Meter comes with a professional carrying case, AC adapter, rechargeable batteries, ear phone, N to BNC adapter, BNC coaxial cable, rubber antenna, RS-232 cable and interface software.

For the name and location of an authorized distributor near you, contact B&K Precision Corporation, 22820 Savi Ranch Parkway, Yorba Linda, California, 92887, Tel: (714) 921-9095, Fax: (714) 921-6422 or visit our Web site at www.bkprecision.com .

For additional information, contact
Greg Von Rehder at (714) 921-9095, ext. 230, e-mail: [email protected]