Hand Held Reader transmits read data up to 150 ft away.
Press Release Summary: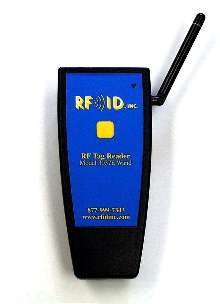 Model 3037E-WL is for use with 125 KHz tags, transmitting at 916 MHz. Used in conjunction with wireless base receiver, it can function with RFID chips from Sokymat, Atmel/Temic, EM, and Philips. Operating on 9 V battery lasting 3 days, reader wirelessly transmits data and receives confirmation of receipt from base station in form of blinking LED and vibration. Unit is splash and rain proof.
---
Original Press Release:

Model 3037E-WL Hand Held Reader


Aurora, CO - Wireless Hand Held RFID Reader - July 2003
RFID, Inc., custom developers of RFID hardware since 1984, is pleased to announce the release of its Model 3037E-WL Hand Held Reader for use with 125 KHz Tags, transmitting at 916 MHz.

Used in conjunction with RFID's wireless base receiver, measuring only 1"x2", the Model 3037E-WL can function with 125 KHz RFID chips from Sokymat, Atmel/Temic, EM, and Philips, as well as RFID, Inc.'s own set of proprietary chips.

Operating on only a 9 volt battery lasting 3 days, the Reader wirelessly transmits read data 150' away then receives a confirmation of receipt from the base station in the form of a blinking LED and vibration.

Company spokesman indicates several hundred have been ordered prior to its June 2003 release with a pending forecast for hundreds more, as four OEM's have private labeled the product family to date. The first Base Station version had been integrated into a Dap Technologies Model 5320 Hand Held PC. The Base Station is also available in stationary format. Reader is available with custom labels for private labeling.

125 KHz Tags/Chips interoperability:
Sokymat WorldTags, Q5
Atmel/Temic 5551/5557 series
EM's 4100 series

Philips Hitagl
RFID, Inc.'s proprietary chips
Others available upon request

Wireless Frequency: 916 MHz
Power: 9 volt battery lasts 3000 reads
Transmission Distance: 150 feet
Wireless Base Station: RS232
Measures: 5"x2"x1" approximate
Watertight: Splash/rain proof

Contact: info@rfidinc.com 877-999-7343 (877-rfid
www.rfidinc.com
14100 E. Jewell Avenue Suite 12 Aurora, CO 80012
PR Contact: James Heurich x102

More from Test & Measurement