Hand-Held Labeler permits indoor/outdoor portable labeling.
Press Release Summary: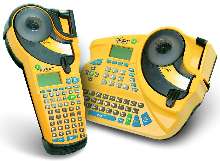 With non-smearing thermal transfer printing, IDXPERT(TM) on-demand printer meets identification needs of maintenance, safety, electrical, and voice/data experts. It comes in 2 keyboard layouts, offers 100+ labeling options, and uses indoor/outdoor grade materials for marking. With text-editing capabilities and edge-to-edge printing, unit prints characters up to 1.25 in. on label stock to 1.5 in. wide. It also prints as small as 7-point text and includes 80+ symbols.
---
Original Press Release:

Label Like an Expert with New Brady Portable Printer


MILWAUKEE - (July 19, 2004) - Brady Corporation has announced the introduction of its most versatile handheld labeler ever, the IDXPERT(TM). This on-demand printer is uniquely designed to meet the specific identification needs of maintenance, safety, electrical and voice/data experts.

The IDXPERT(TM) comes in two convenient keyboard layouts and offers the professional user more than 100 labeling options. In addition to indoor/outdoor grade materials ideal for marking pipes, shelving and equipment, IDXPERT(TM) also offers wire markers, terminal block markers, patch panel markers and other general-purpose die-cut labels.

All IDXPERT(TM) labels are contained in a Drop, Lock & Go Smart Cartridge that saves time. Cartridges are pre-calibrated electronically to orient the label for the specific application -- wire markers, terminal block markers, patch panel markers or pipe markers. There are no special keys to press.

"The IDXPERT(TM) was developed for experts-trained, experienced professionals who have to have the absolute toughest materials and the perfect type of labels to do their job," said Matt Luger, senior product manager for Brady.

"Experts know that a one-size-fits-all type of marker won't fit every application or every job specification," said Luger, pointing out the versatility of this new printer. "IDXPERT(TM) combines into one printer the die-cut labeling applications of electrical and voice/data users with the high visibility continuous tapes needed by facility and safety users...and does so at a very affordable price."

IDXPERT(TM) prints characters up to 1.25" on label stock up to 1.5" wide. It can also provide print as small as 7-point text on any labeling job. In addition to bar codes, IDXPERT(TM) contains more than 80 industrial/commercial symbols as well as sets of symbols for electrical, voice/data, safety & protection, warning, and machine & operational applications.

The IDXPERT(TM) prints clean and fast with crisp, non-smearing thermal transfer printing, expanded text-editing and symbols capabilities. The labeler features edge-to-edge printing on continuous tapes so you don't pay for unused label material.

The IDXPERT(TM) handheld labeler is offered in two printer keyboard styles: the ABC keypad-style layout and the standard "QWERTY" keyboard-style layout. Except for the keyboard styles, the printers are identical in functionality, the materials and cartridges they use and, best of all, price. List price is only US$399. Both IDXPERT(TM) styles are hand-held units and run on 6 AA-batteries or optional AC plug-in. The IDXPERT(TM) ships with 1.5" X 30ft. white supply cartridge, hard case, PC cable for upgrades, and a product CD containing User's Guides and Tutorials.

For more information about Brady's new IDXPERT(TM) handheld labeler, please contact the Brady Response Center at 1-888-BRADYGO (1-888-272-3946), visit the Brady IDXPERT(TM) website at www.bradyid.com/idxpert or contact your local authorized Brady distributor.

Brady (NYSE:BRC) Corporation is an international manufacturer and marketer of complete identification solutions and specialty materials, with products including high-performance labels and signs, printing systems and software, label-application and data-collection systems, safety devices and precision die-cut materials for electronics, telecommunications, manufacturing, electrical, construction, laboratory and a variety of other markets. Founded in 1914, Brady is headquartered in Milwaukee and employs approximately 4,000 employees worldwide. Brady's fiscal 2003 sales were approximately $555 million. More corporate information is available on the Internet at www.bradycorp.com.

More from Packaging Products & Equipment