Hand-Held Convection Tool delivers precision SMT rework.
Press Release Summary: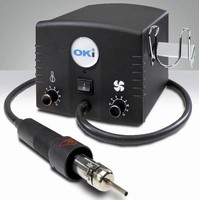 Rated 300 W, HCT-900 hot air tool is designed for removing and replacing thermally demanding lead-free components from 0201s to 304-pin QFPs. Closed-loop thermocouple feedback regulates output temperatures, and control temperatures can be set from 212 to 293ºF. In addition to low-noise pump (less than 45 dB), product features air pump, cool-down functions, and analog controls. It comes in 3 versions to suit 100, 115, and 230 Vac input voltages.
---
Original Press Release:

New Hand-Held Convection Tool Delivers Low Cost Precision SMT Rework for Lead-Free Processes



OK International has developed a hot air tool designed for removing and replacing thermally demanding lead-free components from 0201s to 304-pin QFPs. The HCT-900 Hand Held Convection Tool is engineered as a versatile, low cost solution for production facilities, featuring closed-loop thermocouple feedback, high-precision air pump, cool-down functions and analogue controls.

The new HCT-900 Hand Held Convection Tool from OK International is a low cost rework system providing the flexibility to handle a wide range of thermally demanding production and rework applications, including lead-free. Typical applications for the 300W unit include removal or replacement of QFPs, PLCCs, SOPs and TSOP devices. It can also be used to provide heating and reflow for touch-up work as well as heat shrink and other local heating applications.

The closed-loop thermocouple feedback regulates output temperatures and control temperatures can be set in the range 100-500ºC (212-293ºF). The user simply sets the heat and airflow control dials, to the required values for the application. The unit maintains the required temperature automatically, even if the airflow is adjusted.

The unique low-noise pump, (less than 45 db), provides precision airflow control for the most demanding applications. A power-off, cool-down function retains the airflow as the unit powers down for efficient heater cooling and reduction of thermal stress.

A wide range of nozzles for the HCT-900 are available from OK International that work for general purpose applications or specific SO and TSOP packages, or PLCC, BQFP and QFP devices. In addition the system also accepts many industry standard nozzles.

"With the development of the HCT-900 we are responding to increasing global demand for products designed specifically for lead-free processes," says Craig Brown, OK International's Market Development Manager. "This product joins a range of new affordable, high performance products developed under our new single OK International brand. The HCT-900 is extremely versatile and with its low price tag we believe this is the perfect solution for a wide variety of production and rework challenges."

Three versions of the unit are available to suit input voltages of 115VAC (HCT-900-11), 230VAC (HCT-900-21) or 100VAC (HCT-900-10).

For further information on OK International, please contact:
Paul Wood
OK International
1530 O'Brien Drive
Menlo Park
CA 94025
USA

Phone: 650 325 3291
Fax: 650 325 5932

e-mail: pwood@okinternational.com
Web site: http://www. okinternational.com

More from Test & Measurement