Hand Finishing Sticks aid tool, mold, and die maintenance.
Press Release Summary: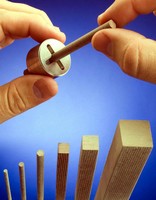 Cotton Fiber Finishing Sticks, available in round and square geometries, precisely fit into holes and slots for deburring, removing mold lines, finishing, and cleaning machined and cast metal parts. Featuring reinforced non-woven cotton-fiber layers with aluminum oxide or silicon carbide abrasives that are bonded and pressed together, sticks come in ¼ x 4 in. to ½ x 6 in. sizes with 24-320 grain as well as soft, medium, and hard bonds.
---
Original Press Release:

Hand Finishing Sticks for Tool, Mold and Die Maintenance



A full line of round and square finishing sticks that provide controlled deburring and finishing by hand for making tool, mold and die repairs in one step is available from Rex-Cut Products, Inc. of Fall River, Massachusetts.

Rex-Cut® Cotton Fiber Finishing Sticks are offered in several shapes and sizes to precisely fit into holes and slots for deburring, removing mold lines, finishing, and cleaning machined and cast metal parts. Providing hand control for deburring and finishing in one operation, without changing part geometry, they are ideal for performing tool, mold and die repairs.

Featuring reinforced non-woven cotton-fiber layers with aluminum oxide or silicon carbide abrasives, bonded and pressed together, Rex-Cut® Cotton Fiber Finishing Sticks come in 1/4" x 4" to 1/2" x 6" square and round sizes with 24 to 320 grain sizes and soft, medium and hard bonds.

Rex-Cut® Hand-Held Finishing Sticks are priced from $3.99 ea. Free samples and literature are available upon request.

For more information contact:

Rex-Cut Products, Inc.
Robert B. Costa, Dir. Sales & Mktg, N.A.
960 Airport Rd. / P.O. Box 2109
Fall River, MA 02722
(800) 225-8182 FAX (800) 638-8501
e-mail: bobc@rexcut.com
www.rexcut.com

Related