Hand Chain Hoist meets ATEX requirements.
Press Release Summary: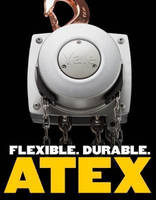 With spark-resistant features, Yalelift 360 ATEX is designed for use in explosive atmospheres. Hand chain cover rotates 360° to lift loads from virtually any angle, while Weston-style braking system provides positive load control. Engineered to resist corrosion with enclosed stamped-steel housing and partially enclosed chain guide and gear box, hoist also has drop-forged load and suspension hooks made of high-tensile steel that yield under overload instead of breaking.
---
Original Press Release:

Columbus McKinnon Introduces New Yalelift 360 ATEX Hoist for Harsh Environments



Built for use in explosive atmospheres and features unique 360-degree rotating hand chain cover



AMHERST, N.Y., -- When you need a rugged manual hoist ideal for use in harsh environments, turn to the new Yalelift 360 ATEX hand chain hoist from Columbus McKinnon Corporation (NASDAQ: CMCO). A leading designer, manufacturer and marketer of material handling products, Columbus McKinnon designed the Yalelift 360 ATEX for use in explosive atmospheres. Not only does the hoist come equipped with explosion protection, spark resistance and corrosion-resistant features, it also has a unique patented hand chain cover that rotates 360 degrees to lift loads from virtually any angle.



Previously available to customers in Europe, Asia, Africa and Latin America, the Yalelift 360 ATEX hoist is now available to the North American market.



Equipped for Harsh Environments

The Yalelift 360 ATEX is built for hazardous environments and is designed to meet ATEX requirements. Specifically, this unit meets EU Directives 2014/34/EU and 99/92/EC and has the classification Ex II 2 GD c IIC T4. The hoist also features a spark-resistant, copper-coated suspension and load hooks; stainless steel load and hand chain; and bronze trolley wheels.



The Yalelift 360 is engineered to resist corrosion with an enclosed stamped-steel housing and a partially enclosed chain guide and gear box. Our MKS micro-corrosion protection system consists of an anti-corrosion basecoat layer paired with a chemical-resistant topcoat for maximum protection in harsh environments.



Providing Maximum Versatility

Unique in design and performance, the Yalelift 360 ATEX hoist features a patented hand chain cover that rotates a full 360 degrees to allow loads to be lifted, pulled or positioned from virtually any angle - even when the operator is positioned above the load.



The Yalelift 360 ATEX hoist has a variety of other features, including:



--  Weston-style braking system that provides positive load control and reliable performance

--  Extreme low headroom

--  Heat-treated steel internal gears and pinions for high strength and long life

--  Precision four-pocket liftwheel and chain guide for better chain fit and alignment

--  Drop-forged load and suspension hooks made of high-tensile steel that yield under overload instead of breaking



For more information on the Yalelift 360 ATEX hoist, visit our website or contact CMCO Channel Services at 800-888-0985.



About Columbus McKinnon       

Celebrating its 140(th) anniversary, Columbus McKinnon is a leading worldwide designer, manufacturer and marketer of material handling products, systems and services, which efficiently and ergonomically move, lift, position and secure materials. Key products include hoists, cranes, actuators and rigging tools. The Company is focused on commercial and industrial applications that require the safety and quality provided by its superior design and engineering know-how. Comprehensive information on Columbus McKinnon is available on its website at www.cmworks.com.



CONTACT: Christie Lagowski, Communications Specialist, Columbus McKinnon Corporation, 716-689-5648, christie.lagowski@cmworks.com

More from Mechanical Power Transmission