Hammer Drill offers optimum ratio of speed to torque.
Press Release Summary: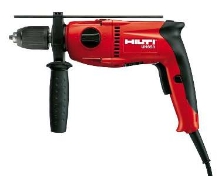 Model UH 650 ½-in. Universal Hammer Drill offers 2 speeds, variable speed trigger, and forward and reverse functions. Constant-on button helps reduce fatigue, while rubber grips help reduce vibration for worker comfort. Grease chamber prevents leakage to keep gearing and pinion well-lubricated at all times. Model UH 650 is suited for rotary drilling into wood, steel, or plastic as well as hammer drilling into masonry.
---
Original Press Release:
Hilti UH 650 ½-Inch Universal Hammer Drill
TULSA, (Okla.) - August 26, 2004 - With an optimum blend of speed and torque, the Hilti UH 650 ½-Inch Universal Hammer Drill generates a precise amount of power - plus it's compact and comfortable - so it's ideal for a wide range of applications. Whether you're rotary drilling into wood, steel or plastic, or hammer drilling into masonry, the UH 650 blends the best of both worlds to give you the performance and convenience you need. The versatile UH 650 helps you get almost any job done quickly and easily. With two speeds, a variable speed trigger, and forward and reverse functions, it provides the ideal ratio of revolutions per minute (rpm) to torque, and better work control and accuracy for optimal drilling in each application. It's perfect for drilling small diameter holes for anchoring in masonry as well as through holes in wood or steel. At just 13 inches, the UH 650 is one of the shortest tools in its class. This compact design allows users to work in tight spots. Its balanced design, light weight (5.2 pounds) and constant-on button reduce user fatigue, and its rubber grips and efficient motor reduce vibration, so contractors can work longer more comfortably. By incorporating the Hilti TE 2 motor, the UH 650 puts well-proven Hilti technology and experience to work for you. A Hilti-designed grease chamber, which prevents leakage to keep the gearing and pinion well-lubricated at all times, reduces heating and wearing of its parts to ease wear and tear on the tool. For greater efficiency, a full line of smooth shank consumables, including hole saws and ship auger, stepper, multi-angle, jobber, spade and masonry bits, are available from Hilti. Hilti stands behind the UH 650 with its One Year Full Service Program, which includes shipping, maintenance service, repair and replacement of all worn or defective parts, functional testing and adjustment and safety check after any repair.* For more information on the UH 650 ½-Inch Universal Hammer Drill or other Hilti hammer drills, rotary hammers or rotary drills, please contact Hilti Customer Service. From the US, call Hilti, Inc., at 1-800-879-8000, or in Spanish, call 1-800-879-5000; from Canada, call Hilti (Canada) Corporation at 1-800-363-4458. Additional information can also be found online at www.us.hilti.com or www.ca.hilti.com. * Some limitations apply. See Hilti for details. About Hilti, Inc.: Hilti is a world-leading manufacturer and supplier of quality, innovative and specialized tools and fastening systems for the professional user. With more than 800 highly trained Hilti account managers and engineers throughout North America and an additional 1,300 Hilti employees nationwide, Hilti expertise covers the areas of powder-actuated fastening, drilling and demolition, diamond coring and cutting, measuring, firestopping, screw fastening, adhesive and mechanical anchoring, and strut and hanger systems.