Hammer Drill is portable and lightweight.
Press Release Summary: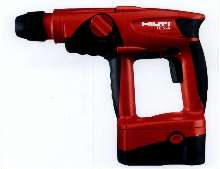 Cordless TE 2-A, 24 V Electropneumatic Hammer Drill performs rotary drilling, straight drilling, or setting screws when working on concrete, brick, and masonry. TE 2-A drills anchor holes in concrete from 3/16-3/8 in., and also provides capacity for drilling up to 1 in. holes in wood, 3/8 in. in steel, and up to 5/8 in. in concrete. Compact drill weighs 8.36 lb, and is offered with either 3.0 amp-hour NiMH or 2.0 amp-hour NiCd battery.
---
Original Press Release:
Corded Performance with Cordless Convenience: Hilti TE 2-A 24-Volt Electropneumatic Hammer Drill is Built to Last
TULSA, (Okla.) - April 2, 2004 - The cordless, hard-working Hilti TE 2-A 24-volt Electropneumatic Hammer Drill, a complement to the 36-volt TE 6-A Rotary Hammer, provides contractors with more drilling performance, drilling capacity and a longer lifetime than many battery drills. Whether you're rotary hammer drilling, straight drilling or setting screws, the TE 2-A will help boost your performance when working in concrete, brick and masonry. TE 2-A Drills More Holes Per Charge Customers will see the most benefit with the TE 2-A when drilling anchor holes in concrete from 3/16 to 3/8 inch, the optimum drilling range of the tool. The TE 2-A also provides ultimate versatility with the capacity for drilling up to 1 inch holes in wood, 3/8 inch in steel and up to 5/8 inch in concrete. And with its innovative gear efficiency, battery and charging technology, the TE 2-A runs longer and more consistently to allow contractors more holes per charge. The TE 2-A is available with two battery options: a 3.0 amp-hour nickel metal hydride (NiMH) or a 2.0 amp-hour nickel cadmium (NiCd). With a 50 percent longer run time, the NiMH battery is the ideal choice for serial applications. The C7/36 Smart Charger(TM) with ACS active cooling and auto refresh, which comes standard with the 3.0 amp-hour NiMH battery, provides the fastest charging time and adds up to 20 percent to battery life. TE 2-A is Durable, Built to Last With a longer lifetime, the Hilti TE 2-A is built to last. And because it's covered by the Hilti Two-Year Full Service Program, your tool will be serviced quickly and reliably with no additional cost to you during the first two years of use. Your Go-Anywhere Hammer Drill At just 8.36 pounds, the compact TE 2-A gives you complete mobility with unmatched power reserves in the 24-volt class. In addition to rotary hammer drilling of anchor holes, it's also ideal for rotary hammer drilling 1/2-5/8 inch holes in concrete and brick, straight drilling in wood (1/2 inch) and metal (3 inch) with a chuck adapter, and setting screw anchors, such as the Hilti Kwik-Con 11 anchors, in concrete and masonry. Get Equipped with Hilti A range of accessories, including a belt adapter, which reduces the tool's weight to 5.28 pounds, keyed and keyless chucks and the Hilti TE-CX bits are available for use with the TE 2-A. When paired with Hilti TE-CX concrete bits, the TE 2-A drills more holes per charge because of their efficient drilling performance. The TE 2-A also can be partnered with the Hilti WSR 650-A Cordless Reciprocating Saw, UH 240-A 24-volt Cordless Cam-Action Hammer/Drill/Driver and SFL 24V Lamp as part of your 24-volt cordless platform. For more information on the TE 2-A Electropneumatic Hammer Drill or other Hilti 24-volt tools, please contact Hilti Customer Service. From the US, call Hilti, Inc., at 1-800-879-8000; from Canada, call Hilti (Canada) Corporation at 1-800-363-4458. Additional information can also be found online at www.us.hilti.com or www.ca.hilti.com. About Hilti, Inc.: Hilti is a world-leading manufacturer and supplier of quality, innovative and specialized tools and fastening systems for the professional user. With 750 highly trained Hilti field representatives and 163 Hilti retail centers throughout North America, and an additional 1,300 Hilti employees nationwide, Hilti expertise covers the areas of powder-actuated fastening, drilling and demolition, diamond coring and cutting, laser positioning and measuring, firestopping, screw fastening, adhesive and mechanical anchoring, and strut and hanger systems.
More from Electronic Components & Devices