Hammer Carbide Drilling Bit accelerates concrete drilling.
Press Release Summary: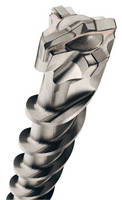 Available in SDS-max®, SDS-plus®, and Spline versions in various sizes, SpeedX series starts holes precisely via centric active tip and accelerates job initiation with inclined side cutters. Shortened head design and size of dust clearing channels enhance performance as holes get deeper. While wear mark is located at tip for precision anchoring applications, flutes reduce vibration and friction as holes get deeper by clearing debris.
---
Original Press Release:

Bosch SpeedX(TM) Fastest Concrete Bits Available



Mount Prospect, Ill. - Bosch Power Tools & Accessories announced today the most innovative new hammer carbide drilling bit on the market. Bosch's new SpeedX series of hammer carbide bits for concrete are up to 20 percent faster and 18 percent more durable than any other concrete bit available.

"Bosch has been known for having the most durable concrete bits," states Andrew Pompei, Product Manager. "Now there is no compromise because they are also the fastest."

SpeedX is the next generation of SDS-max®, SDS-plus® and Spline concrete bits packed with innovation. Holes start precisely, thanks to the centric active tip, and begin quickly as the inclined side cutters power their way into concrete. By utilizing a shortened head design and enlarged dust-clearing channels, SpeedX actually performs better as holes get deeper. In head-to-head competitive testing, the speed difference in deep drilling applications is easy to see, which translates into better jobsite productivity.

In addition to significant increases in speed, Bosch engineered SpeedX to deliver the outstanding performance and long-term durability users have grown to expect from all Bosch hammer carbide products. Vacuum optimized brazing and heat treatment of the precision carbide tip provides excellent resistance to impact and thermal stresses and contributes to an 18 percent increase in lifetime. The same shortened head and inclined cutting slots responsible for increased drilling speed also enhance durability by providing fast dust removal and reducing friction. The expanded flutes further reduce friction as holes get deeper by clearing debris and enabling SpeedX to drill efficiently in deep applications. The precision engineered flutes also reduce vibration in deep drilling.

For precision anchoring applications, Bosch has moved the wear mark to the tip of SpeedX. Unlike previous hammer carbide that employed wear marks on the flutes, SpeedX alerts users when the carbide tip is worn and will no longer deliver precision anchoring at the start of drilling. The feature was first introduced on Bosch's X5L Hammer Carbide and was praised by users who quickly realized imprecise hole placement was the most significant problem associated with worn hammer carbide.

The Bosch SpeedX is now available in SDS-max®, SDS-plus® and Spline versions and in a variety of popular sizes. To find out more or to find a local dealer, users may visit www.boschtools.com or call 877-BOSCH-99.

Follow Joe the Pro on Twitter @ http://twitter.com/BoschJoeThePro
Follow Joe the Pro on FaceBook @ http://boschjoethepro.com/FACEBOOK
Follow Joe the Pro's blog @ http://boschjoethepro.com/JOE-KNOWS
Follow Joe the Pro on YouTube @ http://www.boschjoethepro.com/YOUTUBE

About Bosch
The Bosch Group is a leading global supplier of technology and services. In the areas of automotive and industrial technology, consumer goods, and building technology, some 275,000 associates generated sales of $53 billion (38.2 billion euros) in fiscal 2009. The Bosch Group comprises Robert Bosch GmbH and its more than 300 subsidiaries and regional companies in over 60 countries. If its sales and service partners are included, then Bosch is repre¬sented in roughly 150 countries. This worldwide development, manufacturing, and sales network is the foundation for growth. Each year, Bosch spends more than $5 billion (3.5 billion euros) for research and development, and applies for some 3,800 patents worldwide. With all its products and services, Bosch enhances the quality of life by providing solutions which are both innovative and beneficial.

About Bosch in North America
In the U.S., Canada and Mexico, the Bosch Group manufactures and markets automotive original equipment and aftermarket products, industrial drives and control technology, power tools, security and communication systems, packaging technology, thermotechnology, household appliances, solar energy and healthcare products. Having established a regional presence in 1906, Bosch employs over 20,000 associates in more than 70 locations, with reported sales of $7.3 billion in fiscal 2009.

About Robert Bosch Tool Corporation
Robert Bosch Tool Corporation in North America, was formed in January 2003 when Robert Bosch GmbH combined its North American power tool, accessory and lawn and garden divisions into one organization. As a manufacturing pioneer with more than a century's worth of experience, the Bosch name has become synonymous with engineering excellence. The Robert Bosch Tool Corporation is a world leader in the design, manufacture and sale of power tools, rotary and oscillating tools, accessories, laser and optical leveling and range finding tools, and garden and watering equipment.

For more information about Bosch Power Tools & Accessories, call toll free 877-BOSCH-99 (877-267-2499) or visit www.boschtools.com

For more information about the Bosch Group, visit www.boschusa.com.

More from Thermal & Heating Equipment