Hamilton Trailers Don't Have to Move a Muscle - Until You Want them to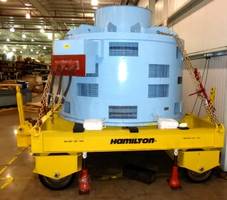 Nothing says productivity plus like a trailer built to save money and human muscle. Case in point: This custom trailer we recently designed to haul large circulating water pump motors from warehouse to power plant. The customer had previously been using heavy timbers to mount and house the motors. Not only were the timbers cumbersome for crews to remove manually; the motors also required expensive crane rentals for transport. The customer was also keenly aware of how towing is safer than lifting with a crane, due to less inherent risk.
We designed a special square trailer that doubles as both storage platform and hauling hero. The motors can safely rest on Hamilton trailers until moving day - all that's needed is a forklift hookup and they're ready to roll. With an 80,000-pound capacity, the trailers also give the 54,000-pound motors plenty of breathing room. We also provided a hole in the truck's center for the motor's coupling to pass through. Added chain hooks keep cargo snug and secure on the decks.
Hamilton Caster
1637 Dixie Highway
Hamilton, OH 45011-4041
Phone: 513-863-3300
Url: http://www.hamiltoncaster.com/
Contact:
Nico Capetola
Email: ncapetola@thomasnet.com
More from Material Handling & Storage