Halogen Headlight Bulbs increase driver safety, reaction time.
Press Release Summary: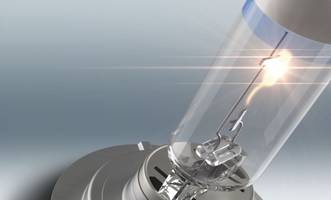 Constructed with quartz glass with blue coating, DOT-compliant 12 V HELLA High Performance (HP) 2.0 Bulbs have halogen gas formulation that delivers optimized HID appearance and performance. Filament maximizes light output, and platinum tip on select bulbs enables precise light focus. While helping reduce nighttime driver fatigue, crisp white illumination produced by these bulbs also helps drivers see more contrast in objects ahead for down-road and side-road visibility.
---
Original Press Release:
Hella Re-Engineers High Performance Halogen Headlight Bulbs
- Special kit includes a pair of bulbs, gloves, and dielectric grease for maximum reliability

Peachtree City, GA – HELLA, Inc., the North American aftermarket subsidiary of automotive lighting and electronics supplier HELLA, has just launched a new line of HELLA High Performance 2.0 Bulbs. These new, technologically advanced headlight bulbs have been re-engineered to deliver up to 100% more light on the road than HELLA standard halogen bulbs. They feature an exclusive halogen gas formulation that delivers the ultimate HID look and performance in a halogen bulb.

The HELLA HP 2.0 Bulbs deliver the type of crisp white illumination that can help reduce nighttime driver fatigue. HELLA engineers incorporated key design advantages such as a re-engineered filament for greater light output and a platinum tip on select bulbs for precise light focus.

According to Alfredo de la Vega, HELLA Marketing Manager, "Our new HP 2.0 bulbs are designed to help improve driver safety and reaction time. They have been developed to produce a brighter, whiter light, which will allow drivers to see more contrast in objects ahead for better down-road and side-road visibility."

The new bulbs are offered in a kit that provides drivers with everything needed to get the job done. The kit includes a pair of bulbs, gloves, and dielectric grease to ensure an ideal connection.

Manufactured under strict HELLA guidelines, HELLA High Performance 2.0 Bulbs create an optimal balance of bulb performance and bulb life. High quality quartz glass is used for overall construction and a specialized blue coating is added to create a distinctive styling.

HELLA HP 2.0 Headlight Bulbs are DOT compliant bulbs and come with a one year warranty. They are available in the following 12V standard wattage bulb types:  H1, H3, H7, H9, H11, H13 (9008), 9003 (HB2)/H4, 9004 (HB1), 9005 (HB3), 9006 (HB4), and 9007 (HB5).

About HELLA, Inc
HELLA, Inc., located in suburban Atlanta, GA, is the North American aftermarket sales and distribution headquarters for HELLA KGaA Hueck & Co.  HELLA, Inc. provides world-class aftermarket and special OE support to automotive, marine, and heavy-duty accounts in the U.S., Canada, Central America, South America and the Caribbean. For more information, visit www.hellausa.com.

HELLA KGaA Hueck & Co., Lippstadt: The automotive parts supplier develops and manufactures components and systems for lighting technology and electronics for the automotive industry. In addition, joint venture companies also produce complete vehicle modules, air conditioning systems and vehicle electric systems. HELLA has one of the largest aftermarket organizations in the world for automotive parts and accessories, with its own sales companies and partners in more than 100 countries.

The consolidated annual sales of the HELLA Group are around 4.4 billion euros. HELLA is one of the top 50 automotive parts suppliers in the world and one of the 100 largest industrial companies in Germany. More than 25,000 people work in 70 manufacturing facilities, production subsidiaries and joint ventures all over the world. Approximately 3,000 engineers and technicians work in research and development throughout the company group. Customers include all leading vehicle and system manufacturers, as well as the automotive parts aftermarket. For more information, visit www.hella.com.

For more information, contact:
Martin Ngwenya
HELLA, Inc
martin.ngwenya@hella.com
(877) 22-HELLA
More from Computer Hardware & Peripherals