Hall Effect Sensor ICs offer response time of 3 µs.
Press Release Summary: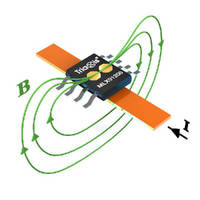 Targeted at current sensing in electric vehicles, hybrid electric vehicles, and renewable energy systems, MLX91208 Series features typical thermal sensitivity drift of ±150 ppm/°C. Transfer characteristics are fully adjustable, with parameters such as sensitivity, gain, and offset capable of being stored on built-in EEPROM memory. Supporting operational temperature range of -40 to +150°C, programmable devices deliver precision DC and AC current measurements up to 200 kHz frequencies.
---
Original Press Release:

Melexis Unveils Latest Programmable Hall Effect Sensor for High Performance Current Sensing Deployments



Tessenderlo, Belgium – Melexis has announced a further addition to its customer programmable Triaxis® Hall effect sensor IC portfolio. Targeted predominantly at use in electric vehicles (EVs), hybrid electric vehicles (HEVs) and renewable energy systems, the high speed devices in the MLX91208 series each offer a response time of just 3µs. Proprietary and novel design elements result in, stable accuracy level over both operational lifespan and temperature, with typical thermal sensitivity drift of ±150ppm/°C.



The transfer characteristics of the MLX91208 devices are fully adjustable, with parameters such as sensitivity, gain and offset capable of being readily stored on the built-in EEPROM memory. Calibration is done using the company's own well established Programming Through Connector (PTC) protocol - where the supply voltage is modulated. As this dispenses with the need of an additional pin for programming, highly efficient production flows can be easily achieved.



Supporting an operational temperature range of -40°C to +150°C, the MLX91208 devices are very well suited to precision DC and AC current measurements up to 200kHz frequencies. The sensors feature Melexis' patented Triaxis® technology, with industry-leading sensitivity that stems from the Integrated Magnetic Concentrator (IMC) layer deposited onto the semiconductor die. Current sensing systems based on the MLX91208 series are expected to exhibit accuracy levels exceeding ±0.5% at room temperature or ±2% at the extremes of the specified temperature range.



Packaged in a standard SO-8 package, these ICs present engineers with the means to implement an extremely compact, highly optimized current sensing solution that benefits from strong galvanic isolation. There are two versions; the MLX91208CAL having a large IMC layer for the detection of very low magnetic fields (100mV/mT to 700mV/mT) and MLX91208CAH aimed at detection of medium fields (50mV/mT to 300mV/mT). Among the key applications for these devices are battery current and motor current monitoring in automotive (HEV, EV, mild HEV, etc.) and renewable energy applications (such as solar power converters).



To learn more please visit: www.melexis.com/MLX91208



Contact Melexis



Marketing Communications

Peter Riendeau

Melexis Inc

15 Trafalgar Sq., Ste. 100

Nashua, NH 03063

USA

Tel: 603-204-2900

Fax: 603 578-1270

pre@melexis.com



Sales Leads

Susan Brocious

Melexis Inc

15 Trafalgar Sq., Ste. 100

Nashua, NH 03063

USA

Tel: 603-204-2900

Fax: 603 578-1270

sbr@melexis.com



About Melexis

Melexis Microelectronic Integrated Systems N.V. (Euronext Brussels:MELE) imagines, creates and delivers innovative mixed signal integrated circuits. Melexis ICs are driving green solutions that enable our customers to bring more energy efficient automotive systems to market. Melexis product portfolio addresses 4 classes of ICs; Sensor, Optoelectronic, Wireless and Actuators. Sensors include magnetic, MEMS, and sensor interface ICs. Optoelectronic products encompass linear arrays, single point sensors, infrared thermometers and CMOS wide dynamic range and night vision cameras. Wireless ICs focus on RKE, TPMS, ISM band applications, NFC, RFID reader and smart tag solutions. Actuator ICs cover LIN and CAN bus networking ICs and advanced BLDC motor driver technology. Melexis is proud of its participation toward reducing the human race's global environmental footprint.



For more information visit www.melexis.com

More from Agricultural & Farming Products