Electrical Sensors / Detectors / Transducers
Hall Effect Current Sensor serves renewable energy applications.
Press Release Summary: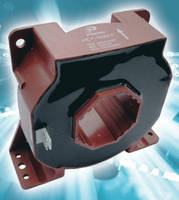 Mechanically and electrically equivalent to LEM LF-1005-S, model HCT-1000LF exhibits ±0.1% accuracy and linearity. Nominal current rating is 1,000 A, measuring current is ±2,000 A, and transformation ratio is 1:5,000. Operating from ±15-24 Vdc supply, sensor offers greater than 6,000 Vac isolation and bandwidth from DC to 150 kHz. Close loop sensor, designed to meet applicable safety requirements, is supplied in plastic housing.
---
Original Press Release:

New Hall Effect Current Sensor up to 1000 Amps for Renewable Energies



The continuous shortage on Hall Effect sensors in the market is generating big troubles on the industrial field and, of course, also in PV and wind inverters manufacturers.
In order to continue supporting our customers, Premo has successfully introduced a close loop 1000 Amps Hall Effect sensor mechanical and electrically equivalent to LEM LF-1005-S.

The new catalogue reference is HCT-1000LF.
Advantages and Key Characteristics:

Excellent Accuracy ± 0.1%

Very Good Linearity ± 0.1%

Nominal current:1000 Amps

Measuring current: ± 2000 Amps

Transformation ratio: 1:5000

Supply voltage: ± 15-24 Vdc

Isolation: > 6000 Vac

Bandwidth: DC....150kHz

By means of close loop solution the high accuracy and linearity is guaranteed keeping values as low as 0.1%. The current sensor allows overload capabilities with a measuring range up to ± 2000 Amps.

The current sensor is designed in order to meet the highest safety requirements and is fully isolated with plastic housing, meeting isolation values higher than 6000 Vac.
The product is completely sourced and produced in China and is currently available in 6-8 weeks. Samples and pilot orders from stock.

We encourage you to study the use of this new Hall Effect sensor in new or existing designs.

Download HCT-1000LF product datasheet: www.grupopremo.com/es/file/760

See more information in our web site: www.grupopremo.com/es/technology/476/hall-effectsensors.html

Request this product: info@grupopremo.com
PREMO
PREMO worldwide leading company designs, manufacture and supplies standard and custom made inductive components for the electronics market. Our wide range of products are RFID transponder coils, EMC filters, PLC accessories, planar transformers, current transducers, chokes, mainly for automotive, renewable energy and railways markets. www.grupopremo.com

For further information you can always contact:

Communication Department:
Rocío Arrupe
Rocio.arrupe@grupopremo.com

PREMO Headquarter
Premo C/. Conchita Supervía
13 - 08028 Barcelona (Spain)
www.grupopremo.com
info@grupopremo.com
Phone number: 34 934 098 980
Fax: +34 934 906 682

More from Electrical Equipment & Systems