Half-Size, Wedge-Shaped Pavers accelerate landscape detailing.
Press Release Summary: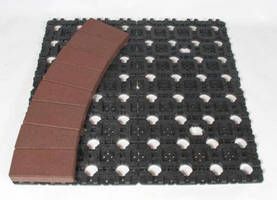 Manufactured in engineered composite of post-consumer recycled rubber and plastics, VAST Composite Detail Pavers facilitate and accelerate installation of curves and other paver patterns in walkways, building entryways, courtyards, terraces, and patios. They are 100% recyclable and designed to compliment 4 x 8 in. Composite Landscape and Permeable Pavers as well as 16 x 16 in. Installation Grids.
---
Original Press Release:
VAST Enterprises Introduces Design Detail Pavers: Accessories for VAST Composite Landscape and Permeable Pavers
Half-Size and Wedge-Shaped Pavers Make it Easier to Install Curves and Patterns with Clean Edges, Smooth Lines, Uniform Spacing MINNEAPOLIS - VAST ® Enterprises, the material science research and manufacturing company that invented composite masonry as a green alternative to clay brick and concrete pavers, announced the introduction of its new VAST Composite Detail Pavers. These wedge-shaped and half-size pavers are accessory pieces that complement 4x8-inch VAST Composite Landscape and Permeable Pavers and the 16x16-inch VAST Installation Grids. VAST designed them to make it easier and faster to install curves and other paver patterns in walkways, building entryways, courtyards, terraces, and patios. "Landscape architects and contractors know that straight or curved solider course patterns (with pavers aligned like soldiers shoulder to shoulder) take a lot of time to get just right," said Andy Vander Woude, LEED AP, chief executive officer, VAST Enterprises. "We developed VAST Composite Detail Pavers as an accessory that makes it easier and much faster to install curves and other patterns with precision and great results." When contractors use concrete pavers or clay bricks in patterns such as a 90-degree herringbone, they have to cut a number of pavers in half to complete the pattern. It takes skill to perform clean, accurate cuts. Cutting wedges for installation of curved shapes is even more difficult. Time and materials are wasted when bricks or concrete pavers crack or chip as they are sawed, or if the cuts turn out uneven and inconsistent. In contrast, when contractors install patterns with VAST Composite Pavers, they can use exact wedge and half pavers manufactured uniformly at the factory. "In landscaping time is money. With the new VAST Composite Detail Pavers my crews are able to set intricate, curved paver patterns faster and more accurately than with any other segmented paver product," said Joe Lemmerman, co-founder, EarthPavers, LLC. "We did a head-to-head comparison with an experienced crew installing curved soldier courses around trees. They set VAST six times faster than conventional concrete pavers." Like all VAST composite masonry products, the new accessory pieces are manufactured in VAST's composite material: the world's first and only engineered composite of post-consumer recycled rubber and plastics that offers the strength, durability and visual appeal to provide a green alternative to molded concrete and clay brick. VAST Composite Pavers are cradle-to-cradle green. They can contribute to green building projects earning more LEED® credits than any other paver. "We start the VAST manufacturing process with recycled car tires and plastic containers. Our process takes 94 percent less energy and releases 89 percent less carbon dioxide than concrete product manufacture," said Steve Smith, chief technology officer, VAST Enterprises. "When we mold our pavers, there are no mercury emissions, no volatile organic compounds generated, no scrap, no waste. And VAST Composite pavers are 100 percent recyclable." VAST Enterprises, LLC VAST applies its patented technology to transform recycled materials into a new resource for green building: composite masonry. VAST composite products - including landscape pavers, permeable pavers for stormwater management, deck pavers and thin brick - offer an engineered alternative to molded concrete and clay brick. VAST meets the most demanding requirements for aesthetics, durability, sustainability and installation efficiency. Award-winning VAST Pavers deliver rich colors, superior slip resistance and unbeatable strength at one-third the weight of concrete pavers. VAST can contribute to qualification for more LEED® credits than any other paver. Today, every 5,000-square foot VAST landscape installation keeps 2,500 scrap automobile tires and 75,000 plastic containers out of U.S. landfills. Tomorrow? The Future is VAST(TM). Learn more at vastpavers.com. Then call (612) 234-8958. LEED® (Leadership in Energy and Environmental Design) is registered trademark of the U.S. Green Building Council. Media Contact: David Aquilina | (612) 716-5628 | davida@strategicstoryteller.com
More from Electronic Components & Devices