Half Mask Respirator protects against airborne illnesses.
Press Release Summary: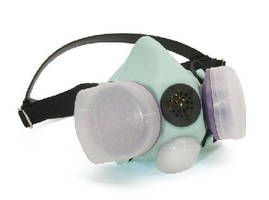 Featuring reusable design, Blue 1H Elastomeric Air Purifying Respirator is made of pliable silicone to eliminate gaps and provide impenetrable barrier against discharge from sneezing or coughing. Unit utilizes P100 filters to remove 99.97% of particulates, including microscopic viruses and bacteria. Speech diaphragm aids in clear communication between healthcare workers and patients, while exhalation port diverter directs healthcare worker's exposed breath away from patient.
---
Original Press Release:

Honeywell Introduces Blue 1H Half Mask Respirator for Healthcare Workers Offering Protection from Airborne Illnesses, Enhances Communication with Patients



SMITHFIELD, R.I., — Honeywell (NYSE:HON) today announced the Blue 1H Half Mask Respirator, a reusable, elastomeric air purifying respiratory (APR) that delivers better respiratory protection for healthcare workers against airborne infection diseases,  significantly improved communication interactions between healthcare workers and patients, and reduced reliance on the availability of disposable respirators.



The Blue 1H was originally developed in conjunction with medical professionals who had a need for a reusable mask for workers in environments of prolonged exposure to airborne infectious diseases. The new mask comes in patient friendly-colors, including lavender and scrub green, and provides a speech diaphragm to aid in clear communication between healthcare workers and their patients.



The need for better healthcare worker protection from airborne diseases, including avian and pandemic flu and SARS-type agents, as well as TB, is among OSHA's top concerns for frontline healthcare workers (HCW). While the use of N95 disposable filtering face pieces (FFP) are seemingly ubiquitous, they are not a sufficient barrier against patient "spray" —liquid discharge from sneezing or coughing that can penetrate filters to put workers at risk for infection. In fact, currently under discussion between OSHA and the FDA is a requirement involving the use of elastomeric APRs in hospitals to ensure HCW safety in the case of shortages of disposables, or where workers face continual exposure to airborne pathogens (viruses).



The reusable Blue 1H Half Mask Respirator from Honeywell uniquely fills these needs.



The Blue 1H delivers unparalleled respiratory protection for both the HCW and the patient while also, through product design and functionality, facilitates their working relationship. Features of the Blue 1H include:




A pliable, comfortable silicone mask which better fits the healthcare worker's face, eliminates gaps, and provides an impenetrable barrier against patient "splash."



P100 filters that filter out 99.97% of particulates, including microscopic viruses and bacteria.



P100 filter guards which act as an extra barrier from patient "splash."



An exhalation port diverter that directs the HCW's exposed breath from away from the patient.



A speech diaphragm that improves communication between the HCW and patient.



Patient-friendly design and colors to help HCWs appear less threatening to those receiving care. Colors include scrub green, lilac, and the original royal blue.



The Blue 1H has particular application for healthcare professionals in environments ranging from the ER, OR, and IC to clinics and other medical facilities. In addition, the Blue 1H can also eliminate the dependence on disposables during a pandemic or other infectious disease outbreak.



The new Blue 1H Half Mask Respirator for healthcare workers is immediately available in three sizes and three scrub colors from Honeywell Safety Products. For more information, visit http://hwll.co/Blue1H, or contact your nearest Honeywell distributor, or call Honeywell Customer Care in the U.S. at 1-800-430-4110 and in Canada at 1-888-212-7233.



About Honeywell Safety Products

Honeywell Safety Products (HSP), a global manufacturer of leading personal protective equipment (PPE) and provider of safety solutions, helps company employees make safer decisions on their own and build an enduring culture of safety. With world class brands such as Honeywell®, Uvex®, North®, Howard Leight®, Miller®, Fibre-Metal® and Servus®, HSP offers a full range of quality PPE, including: protective clothing; fall and hearing protection products; solutions that protect hands, head, feet, eyes and face; along with respiratory, welding, first-aid, lockout/tagout and traffic safety equipment. Lead them to safety—visit www.honeywellsafety.com/culture to learn more.



About Honeywell

Honeywell (www.honeywell.com) is a Fortune 100 diversified technology and manufacturing leader, serving customers worldwide with aerospace products and services; control technologies for buildings, homes, and industry; turbochargers; and  performance materials.  For more news and information on Honeywell, please visit www.honeywellnow.com.

More from Machinery & Machining Tools