Haag-Streit Offers ErgoMax Surgical Chair and Foot Pedal Stand with Multi-Directional Adjustment
Press Release Summary: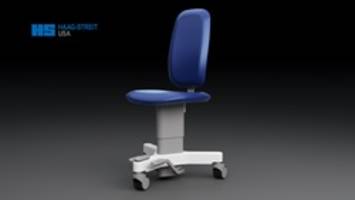 The ErgoMax Surgical Chair and Incline Foot Pedal Stand are designed for physicians in the surgical suite. The surgical chair is offered with curved backrest, armless design and narrow seatback that provide freedom of movement without the risk of contamination. The ErgoMax Incline Foot Pedal stand provides neutral foot position and alleviates stress on the surgeon's lower back.
---
Original Press Release:
Reliance Medical Products: New ErgoMax Line Designed by Surgeons for Surgeons
Reliance Medical Products partners with Zukunplan to create an ergonomic surgical chair.
MASON, OH (PRWEB) OCTOBER 27, 2018 - Chronic musculoskeletal disorders among ophthalmologists are on the rise, often cutting careers short – and equipment that ignores proper ergonomic positioning of the surgeon is a major factor.
Industry-leading Reliance Medical Products, a division of Haag-Streit USA, is reinventing the surgical stool and related products to provide ideal ergonomics for the physician in the surgical suite.
"The new ErgoMax Surgical Chair and ErgoMax Incline Foot Pedal Stand are concrete examples of the visionary ideas we're developing to maximize comfort and prolong the careers of surgeons," said Mike Luley, Haag-Streit Surgical Division VP. "Historically, equipment design has been centered on the comfort of the patient, not the physician. Shifting our focus to encompass the surgeon's joint and spine health will not only impact their hours in the surgical suite, but their daily lives as well."
To understand the unique issues surgeons face, Reliance collaborated with Michael E. Snyder, M.D. and Anup K. Khatana, M.D., of the Cincinnati Eye Institute.
"As an ophthalmologist, there's nothing more important than ergonomics, especially if you develop neck and spine disease," says Dr. Snyder. "I've been proactive on this approach for more than twenty years. By improving ergonomics in your practice, you do a better job and your patients benefit from better care."
Reliance has also teamed up with the Columbus, OH-based product design firm Zukunplan to engineer the doctor-inspired ErgoMax innovations.
"Every aspect of the physician's experience in the surgical suite has been considered to advance the chair's design. The curved backrest, for instance, aligns the spine for added lumbar support, with multi-directional adjustment for perfect positioning," notes Terry Birchler, owner of Zukunplan. "To accommodate the wide range in surgeons' lumbar lordosis, there's a choice of curvatures. And the armless design and narrow seatback allows freedom of movement without the risk of contamination."
Aesthetically stunning as well, the clean, sleek look of the ErgoMax chair complements the design of any modern surgical suite.
Further evolving the new product line, the ErgoMax Incline Foot Pedal stand elevates and angles surgical foot pedals – similar to a car's gas pedal – to alleviate stress on the surgeon's lower back and make foot pedal actuation more fluid and precise. "Completely flat foot pedals force the leg into unnatural positions to make adjustments," says Birchler. "The ErgoMax Incline offers a neutral foot position, preventing overextension of the ankle."
The ErgoMax line is just the beginning of a new era of products from Reliance that will have a profound impact on the surgical suite and physician comfort and health.
"As ophthalmologists build their practice, they should look for equipment that's just as invested in their long-term success and well-being as they are," says Luley. "Doctors are caregivers and have always put the needs of their patients ahead of their own. But a more holistic view is warranted, and with Reliance's focus on ergonomics, we're making it easier for physicians to take care of themselves, too."
For more information on the ErgoMax line and to meet the engineers behind it, visit the Haag-Streit booth, #2226, at AAO in Chicago, October 27-30.
Contact Information
Lauren LaVelle
Haag-Streit USA Inc
http://www.haag-streit-usa.com
+1 513-486-1497
More from Agricultural & Farming Products