Briefcase / Laptop / Business Cases
H500P Mesh White comes with full-mesh front panel with acrylic top panel.
Press Release Summary: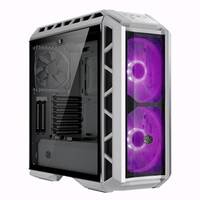 MasterCase H500P Mesh White is designed with two pre-installed 200mm RGB fans fixed behind the mesh sits, which propels air into an all-white interior chassis. Unit comes with PSU shroud and CPU cut out cover for clean cable management. Unit allows user to show off one graphics card in the vertical position with the PCI slots provided at the rear. H500P is included with RGB controller connected to reset switch manages lighting of the two 200mm RGB fans.
---
Original Press Release:
Cooler Master Announces Availability of New H500P Mesh White
Introducing the latest addition to the MasterCase line
Cooler Master, an award-winning computer hardware manufacturer, today announces the launch of the MasterCase H500P Mesh White. Designed for users wanting to push their system to its limits, the H500P Mesh White offers unrestricted airflow.
The H500P Mesh White offers builders a full-mesh front panel with acrylic top panel. Behind the mesh sits two, pre-installed, 200mm RGB fans that propel air into an all-white interior chassis. The space and capacity inside ensures that the case is easy to build in and cable management is as streamlined as possible. The combination of tempered glass and industrial lines gives the H500P a refined, functional appeal for your build to look as great as it performs.
"The H500P represents what building a PC is to us and our community - it's fun, rewarding, and self-expressive," said Matteo Stracciari, Case General Manager for Cooler Master. Upon closer inspection, the mesh on the front panel is not just steel mesh. There is a second layer, or screen, that is finer and purposed to filter dust and keep builds clean.
Two 200mm RGB fans behind Mesh front panel – Optimized airflow is guaranteed with a complete mesh front panel providing plenty of air intake for the two pre-installed 200mm RGB fans. Users can manipulate the RGB lighting to create a captivating build in any desired color theme.
Covers for Clean Building – A PSU shroud, CPU cut out cover, and additional cable covers take clean cable management to the next level. Users can assemble clean builds like a pro.
Show Off Your Graphics Card – Two additional PCI slots at the rear enable builders to show off one graphics card in the vertical position. All of this is seen through a light grey tinted tempered glass side panel, ideal for showcasing your build with (RGB) lighting.
Liquid Cooling Ready – The MasterCase H500P Mesh White accommodates up to 360mm radiators on the top and front.
RGB controller and 1 to 3 Splitter Cable for RGB LED Fans – The included RGB controller can be connected to the reset switch to manage the lighting of the two 200mm RGB fans. Also, the RGB Connector Splitter and 4 pin male to male adapters are included.
Airflow is not just about cramming air into the case, it is also about efficiently directing the air to move through the system. The particular placement of vents on the top cover is key in channeling the flow of air to reduce system temps. Along with directing airflow, the H500P Mesh White provides ample room for advanced builders looking to house complex components like custom liquid cooling. Whether builders decide to use air cooling, closed loop, or open loop system(s), the H500P's layout offers room for development. To learn more about the H500P Mesh White visit: http://www.coolermaster.com/
Pricing & Availability
The H500P Mesh White will be available for pre-sale starting on February 27, 2018, in North America, for a starting MSRP of $149.99 USD.
About Cooler Master:
Cooler Master is a Taipei-based, global computer components and peripheral company with a 25-year track record in releasing innovative products that truly advance the industry. We are driven by a passion for the things that make building a PC such a unique, rewarding experience, and sustained by a vision that we can reinvent the way these machines are designed, made and used. From our landmark release of the first ever aluminum PC case to our groundbreaking switch to the modular format, Cooler Master is committed to bringing our customers and fans the utmost in choice and control. For more information on Cooler Master, please visit http://www.coolermaster.com.
More from Communication Systems & Equipment