H2W Presents New Voice Coil Positioning Stage with High Flux Density Neodymium Magnets
Press Release Summary: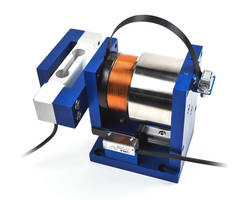 The VCS13-108-LB-01-MCF Voice Coil Positioning Stage is equipped with a NCC13-30-108-1SH motor that delivers a continuous and peak force of 48.0 N and 144 N respectively. The stage is offered with recirculating ball linear bearing and a load cell with a signal conditioner that offers push/pull force feedback of 1-100 N. It is suitable for applications such as vision inspection, position control, mirror tilt and focusing, Z-axis for pick and place equipment.
---
Original Press Release:
Voice Coil Positioning Stage Has 1 Micron Resolution
Santa Clarita, CA -- The VCS13-108-LB-01-MCF voice coil positioning stage uses H2W Technologies voice coil motor NCC13-30-108-1SH to generate a continuous/peak force of 10.8 lbs [48.0 N]/32.4 lbs [144 N] with a total stroke length of 1.3 in [31.8 mm]. The 1.0-micron resolution encoder allows for precise positioning. The load cell with signal conditioner (100 N capacity, 1 N resolution) allows for 1-100 N of push/pull force feedback. It comes supplied with a rigid recirculating ball linear bearing. The motor coil is the moving part of the assembly to reduce the moving mass of the system. Power is supplied to the motor via a high flex, high reliability flat ribbon cable. 
Advantages of Voice Coil Positioning Stages:
Small Size, High Force to Weight Ratio
High Accelerations
No Cogging or Commutation
Custom Designs with Quick Turnaround Times
High Flux Density Neodymium Magnets are Used
Low Cost Economical Solution
Applications:
Mirror Tilt and Focusing
Z Axis for Pick and Place Equipment
Medical Diagnostic Probes and Laser Beam Steering
Vision Inspection
Miniature Position Control
Clean room
H2W Technologies, Inc. is dedicated to the design and manufacture of linear and rotary motion products that are used in the motion control industry. The complete line of linear electric motors includes: Single and dual axis linear steppers, DC brush and brushless linear motors, voice coil actuators, and AC induction motors. Also offered is a complete line of ball screw, lead screw and belt driven positioning stages.
Other motion control products include: Limited angle torque motors for compact, limited angular excursion rotary servo applications, 3 phase brushless rotary servo motors with matching digital servo amplifiers and permanent magnet linear brakes for fail-safe, zero power braking for baggage handling and people moving applications as well as amusement park rides.
With over 75 years combined experience in the linear and rotary motion field, the H2W Technologies team of engineers offers the optimal solution to the most demanding motion control, requirements.
For additional information contact Mark Wilson at H2W Technologies, 26380 Ferry Ct, Santa Clarita,  CA 91350; Tel: 888-702-0540 FREE, Fax: 661-251-2067, E-Mail: info@h2wtech.comor visit the website at http://www.h2wtech.com
Contact This Company Download Spec Sheet
More from Communication Systems & Equipment