Gyrocompass and Motion Sensor System offers INS upgrade path.
Press Release Summary: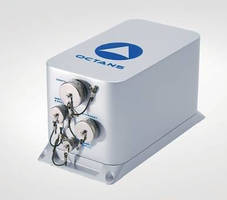 Built on iXBlue's strap-down fiber-optic gyroscope technology, fifth generation OCTANS provides accurate real-time output for roll, pitch, true heading, and heave, as well as acceleration and rate of turn, under challenging environments without need for GPS/GNSS. Survey-nav-grade product offers heading measurement accuracy of 0.05° Seclat and real-time accurate heave for swells up to 30 sec. Featuring IMO/IMO-HSC certification, OCTANS is suited for civil and defense marine applications.
---
Original Press Release:

iXBlue Launches the Fifth-Generation OCTANS, Company's Trusted Reference in Sea Navigation, Making Available New Features, Enhanced Performance and INS Product Upgrade Path



Fifth Generation OCTANS reinforces iXBlue position as the sole supplier of the widest range of proven FOG-based navigation products for civil and defense applications



MARLY-LE-ROI, France, – iXBlue, a global leader in navigation, positioning, and imaging systems, is unveiling the fifth-generation OCTANS, the trusted reference in survey-grade navigation. The new OCTANS is an all-in-one gyrocompass and motion sensor (attitude and heading reference system, AHRS) and brings in new and enhanced features, including IMO/ IMO-HSC certification and inertial navigation system (INS) product upgrade-path. The fifth-generation OCTANS gives marine customers more product variant choices, expanding the industry's most comprehensive proven surface and subsea product range. OCTANS is built on iXBlue's unique ultimate-performance strap-down fiber-optic gyroscope (FOG) technology proven by thousands of units shipped. Fifth-generation OCTANS customers will benefit from the industry's best performance-value offering with unrivalled reliability, backed by a new offer of a 5 year warranty.



The fifth-generation OCTANS provides highly accurate real-time output for roll, pitch, true heading, heave, as well as acceleration and rate of turn, under challenging environments without the need for GPS/GNSS. It sets a new standard in the survey-nav-grade product segment by offering heading measurement accuracy of 0.05 degrees Seclat and extending the capability to provide in real-time accurate heave for swells up to 30 seconds.



The extended iXBlue surface and subsea navigation comprehensive product range includes: QUADRANS, OCTANS and INS Product upgrade, HYDRINS, PHINS, and MARINS Series for surface/sub navigation and OCTANS Nano, OCTANS 3000 and PHINS 6000 for subsea. The superlative product range allows customers to choose the right product for their application with the right feature-performance-cost mix.  iXBlue field-proven navigation systems, coupled with full range of underwater acoustic positioning systems maximize customer ROI with the lowest total-cost-of-ownership. Finally, OCTANS is free of ITAR components (CJ) and is eligible for O&G license, making it easy to export.



OCTANS targets diverse civil and defense marine applications including survey (MBES/Lidar), offshore Oil&Gas, dynamic positioning (DP), motion monitoring, platform stabilization, and safe robust navigation in GPS-absent applications such as tunneling and defense. With decades of experience, iXBlue serves thousands of international customers in more than 30 countries.



To learn about OCTANS, during the week of April 13-15, visit iXBlue stand at Sea-Air-Space, National Harbor, MD, USA (1139) or Ocean Business, Southampton, UK (H9).



CONTACT:

Tel: +33 1 30 08 80 57

eva.marie@ixblue.com

www.ixblue.com



Web Site: http://www.ixblue.com

More from Communication Systems & Equipment