Gyratory Screeners target fertilizer industry.
Press Release Summary: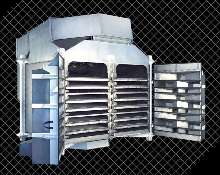 Mega Screeners provide 120-350 sq-ft of screen surface in 10 x 10 x 12 ft machine. They use 2-bank, multi-level screen deck arrangement to present 16-50 ft width to feed, which keeps bed depth low. Design evenly splits and distributes incoming flow of material to multiple screen decks that combine to equal bank of 10 screeners in one machine. Machines allow quick screen changes, which is advantageous when dealing with damp fertilizer and other screen coating materials.
---
Original Press Release:

Rotex Megatex Screener Spurs Mega Growth for Fertilizer Industry


CINCINNATI, OH (October 5, 2004) - Manufacturing high product volume fuels growth in the fertilizer industry, and the capacity to quickly screen product to insure it meets specification is a vital component to the process. When volume levels overwhelm the capabilities of conventional screeners, Rotex Mega Screeners deliver a powerful punch. They provide 120 to 350 square feet of screen surface in a compact 10'x10'x12' machine which allows them to perform the job of multiple conventional screeners without taking up a lot of space. As a result, they offer a lower initial capital expense and considerable savings in installation, operation, and floor space costs. The Megatex uses a two-bank, multi-level screen deck arrangement to present 16' to 50' width to the feed, which keeps bed depth low and maintains screen accuracy and efficiency at high capacities. The Megatex's unique design evenly splits and distributes the incoming flow of material to the multiple screen decks that combine to equal a bank of ten screeners in one machine.

"The Megatex Screener in our facility delivers the quality we need and still handles our high volume level effortlessly," says Bob Williams, Vice President of Williams Fertilizer Inc.

Megatex screeners also feature:
o Quick screen changes which is advantageous when dealing with damp fertilizer and other screen coating materials.
o Increases capacity for single-machine operations and supports expansion.
o Consolidates multiple screener capacities into a single, high-capacity screening machine which consolidates multiple lines or multiple plants into a single process.
o Reduces overall footprint of screening operations compared to multi-unit operations.

Megatex Screeners improve productivity through two innovations: wide screens and long-stroke, gyratory motion. Using screen surfaces that are wider, rather than longer allows the Megatex Screeners to handle increased capacity while maintaining screening accuracy. In addition, its long stroke, low frequency drive creates a force level that serves two important functions. First, the motion effectively spreads the material across the full width of the distribution panel, proportionately feeding each of the screen levels and eliminating the need for multiple process points. Second, it produces effective ball mesh cleaning that controls binding and provides long-term, uninterrupted operation. "The Megatex Screener does a big job in a small space," says Frank Baker, Quality Assurance Manager at Williams Fertilizer, Inc. "It's cost-effective in size and in the level of quality output it provides."

You can calculate your potential savings by using the online wizard at rotex.com/rotex/wizard.

ROTEX Inc. has provided screening solutions globally, to customers in the food, chemical, plastics, agricultural and mineral industries for over 90 years. Smart Solutions from ROTEX include Rotex® Screeners; high capacity MegatexTM Screeners; the new Minerals Separator, GradexTM Particle Size Analyzers; the Plastic Pellet Screener; LIQUATEX®, Liquid/Solid Separators; as well as Rotex Parts & Service capabilities.

For more information contact ROTEX Inc., 1230 Knowlton St., Cincinnati, OH 45223, www.rotex.com, (800) 453-2321, Fax (513) 346-5454 or e-mail info@rotex.com.

John Gerhardt
ROTEX INC.
(513) 591-5328
jygerhardt@rotex.com

More from Printing & Duplicating Equipment