Gulfstream to Showcase Four-Living-Area G650ER at MEBAA 2016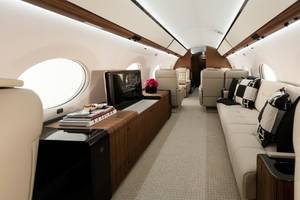 Interior Demonstrates Cabin Flexibility And Customization
SAVANNAH, Ga., Nov. 21, 2016 - Gulfstream Aerospace Corp. is pleased to display three of its business jets at the Middle East and North Africa Business Aviation Association (MEBAA) Show Dec. 6-8 in Dubai. The static display will include the company flagship Gulfstream G650ER as well as the high-performing Gulfstream G550 and the class-leading Gulfstream G280.
The four-living-area G650ER will headline Gulfstream's presence, showcasing the company's commitment to exceeding customers' expectations for customization, comfort and craftsmanship.
Customers will have the opportunity to see the three Gulfstream aircraft firsthand and discuss Gulfstream's advances in innovation, reliability, safety and performance.
The aircraft will be available for viewing outside Chalet A13-14 at Dubai World Central. In addition to the aircraft on display, Gulfstream will have a reception area for customers.
"We are looking forward to a productive show in an important region," said Mark Burns, president, Gulfstream. "Gulfstream aircraft deliveries to the Middle East began in 1976. Forty years later, we have more than 120 aircraft based in the Middle East and North Africa. With this growth, we continue to invest in Product Support capabilities throughout the region, including expanding our parts and materials inventory at Dubai World Central."
Select members of the company's leadership team will be on hand for the three-day air show as will Trevor Esling, regional senior vice president, International Sales for Europe, the Middle East and Africa, and Allan Stanton, regional vice president, International Sales, Middle East.
More information about General Dynamics is available at www.generaldynamics.com.
SOURCE Gulfstream Aerospace Corp.
CONTACT:
Steve Cass,
Communications,
+1 912 965 4908 (office),
+1 912 224 9869 (mobile);
Heidi Fedak,
Communications,
+1 912 395 8574 (office),
+1 912 484 7849 (mobile)
Web Site: http://www.gulfstreamnews.com
More from Computer Hardware & Peripherals