Gulfstream Introduces G500 Along with Super-midsize G280 at 2019 Aviation Africa Summit and Exhibition
Press Release Summary: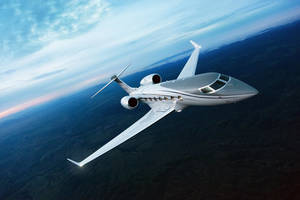 G280 can fly 3,600 nm/6,667 km at Mach 0.80
Aircraft can easily access smaller airports as well as reach high altitudes quickly
Great takeoff and landing performance
---
Original Press Release:
Gulfstream to Showcase Aircraft at Aviation Africa 2019
Display Will Feature All-New Gulfstream G500, Super-Midsize Gulfstream G280
Savannah, Ga., Feb. 20, 2019 /PRNewswire/ -- Gulfstream Aerospace Corp. today announced it will showcase the clean-sheet, record-breaking Gulfstream G500 along with the class-leading, super-midsize Gulfstream G280 at the 2019 Aviation Africa Summit & Exhibition from Feb. 27-28 in Kigali, Rwanda. Gulfstream's exhibition will be at the Radisson Blu Hotel & Convention Centre, and the aircraft will be on static display at Kigali International Airport.
"Gulfstream is committed to customers in sub-Saharan Africa and growing business aviation in the region," said Mark Burns, president, Gulfstream. "Rwanda has made great investments in business aviation, and we are proud to support those efforts with our presence and static display in Kigali. Whether flying from country to country or intercontinentally, the G500 and G280 offer operators ideal options for this region."
The award-winning G500 can fly 5,200 nautical miles/9,630 kilometers at its long-range cruise speed of Mach 0.85 and can easily connect Kigali to London at Mach 0.90 or Kigali to Singapore at Mach 0.87. When it entered service in September 2018, the G500 had already achieved 22 city-pair records around the world and currently holds a total of 32 city-pair records. The G500 that will be on display at Aviation Africa is in service with Qatar Airways' Qatar Executive fleet.
The high-performing and agile G280 can fly 3,600 nm/6,667 km at Mach 0.80, and can travel nonstop from Kigali to Dubai, United Arab Emirates, at Mach 0.84 or Kigali to Bangalore, India, at Mach 0.80. The aircraft can easily access smaller airports, reach high altitudes quickly and offers excellent takeoff and landing performance.
Gulfstream Aerospace Corporation, a wholly owned subsidiary of General Dynamics (NYSE: GD), designs, develops, manufactures, markets, services and supports the world's most technologically advanced business-jet aircraft. Gulfstream has produced more than 2,800 aircraft for customers around the world since 1958. To meet the diverse transportation needs of the future, Gulfstream offers a comprehensive fleet of aircraft, comprising the Gulfstream G280™, the Gulfstream G550™, the Gulfstream G500™, the Gulfstream G600™, the Gulfstream G650™ and the Gulfstream G650ER™. We invite you to visit our website for more information and photos at www.gulfstreamnews.com.
More information about General Dynamics is available at www.generaldynamics.com.
Source Gulfstream Aerospace Corp.
Contact:
Heidi Fedak, Communications, heidi.fedak@gulfstream.com, +1 912 395 8574 (office), +1 912 484 7849 (mobile)
Web Site: http://www.generaldynamics.com
More from Thermal & Heating Equipment