Guided Pipetting System brings automated liquid handling to labs.
Press Release Summary: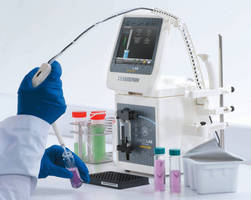 Able to replace 3–4 manual or electronic pipettes, handheld Microlab 300 Series uses one probe and 2 tip sizes while enabling users to dispense 0.5–1,000 µL without exchanging pipettes. Users can fine-tune pipetting parameters for each liquid, and Linked Methods serve as electronic standard operating procedures. Optimizing QA for laboratories, sample volumes are automatically set by system, and log files of all pipetting activities are generated and stored for traceability.
---
Original Press Release:

Hamilton's Microlab 300 Redefines Hand-Held Pipetting



Hamilton puts the accuracy and precision of its automated liquid handling systems in the hands of laboratory technicians



Reno, Nevada -- Hamilton Company's Laboratory and Sensor Products Division introduces the Microlab 300 Series Pipettor, the industry's first guided pipetting system. The product is designed to bring the assurance of an automated liquid handling system into the hands of the laboratory technician at a low cost and without complex programming. This lightweight, hand-held device enables laboratories to achieve unsurpassed quality assurance through reproducible and traceable methods, and to reduce sample preparation time by eliminating inefficient steps.



"The innovative design of the Microlab 300 Series Pipettor replaces three to four manual or electronic pipettes with one device. Users can dispense between 0.5–1000 µL without needing to exchange pipettes," says Jason March, Marketing Director of the Laboratory and Sensor Products Division. "The Microlab 300 achieves this range with just one probe and two tip sizes, instead of the three pipette sizes and three tip sizes typically required."



The Microlab 300 meets GLP/GMP, RoHS, 21 CFR Part 11, and ISO-8655 regulations. The system also exceeds accuracy benchmarks set by the industry by allowing users to fine-tune pipetting parameters for each liquid.



"One of the core benefits of the Microlab 300 is its ability to improve pipetting accuracy through standard and customizable Liquid Classes," says Devon Bateman, Product Manager for Hamilton Company. "Technicians can establish pipetting speeds and delays easily for any fluid, giving them the power to successfully pipette the most challenging liquids."



The Microlab 300 is also unique because of its user-friendly, proprietary software. The system goes beyond pre-programmed pipetting operations for common techniques, like reverse pipetting and aliquoting, and allows technicians to easily create, save, and execute pipetting applications from start to finish. Users also benefit from a range of software advancements:

• Linked Methods serve as electronic standard operating procedures and eliminate process errors by guiding the technician graphically through the pipetting steps in a controlled and auditable manner.

• Sample volumes are automatically set by the system, eliminating manual adjustment errors.

• Log files of all pipetting activities are generated and stored for traceability.

• User accounts and password protection provide additional system security and accountability.



The Microlab 300 is currently available in North and South America, Australia and the Pacific Rim.

To learn more about the Microlab 300 Series Pipettor, visit www.hamiltoncompany.com/microlab300.



Hamilton Company is a global leader in the design and manufacture of liquid handling, process measurement, robotics and storage solutions, serving customers in academic and private research laboratories, pharmaceutical and clinical diagnostic companies and government institutions. Hamilton maintains headquarters in Reno, Nevada; Hopkinton, Massachusetts; and Bonaduz, Switzerland, along with subsidiary offices throughout the world. For over 50 years, the company has maintained its commitment to building precision and quality into every product. Hamilton is a privately held company with ISO 9001 certification. For more information, visit www.hamiltoncompany.com.



Contacts:



Devon Bateman

Product Manager

Hamilton's Laboratory and Sensor Products Division

Product inquiries

(775) 858-3000 Ext. 591

mailto:devon.bateman@hamiltoncompany.com



Annette Summers

PR Consultant for Hamilton Company

Press inquiries

(925) 519-0608

annette.summers.comm@gmail.com

More from Controls & Controllers