Guards Designed to Protect Horn/Strobe/Speakers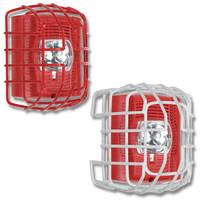 February 7, 2017 – Here is an excellent way to protect horns, strobes and speakers against vandalism and accidental damage. The Horn/Strobe/Speaker Damage Stoppers® are the only UL/cUL Listed guards designed to protect System Sensor SpectrAlert® Advanced series of notification appliances.
Constructed of a tough, 9-gauge steel wire coated with corrosion resistant red or white polyester, they are available in flush or surface mount. Guards are recommended for areas where abuse is severe or it is imperative horn/strobe/speakers continue to operate.
Installation is fast and simple with the screws and anchors provided. STI guarantees the guards for three years against breakage in normal use. UL/cUL Listed. A variety of wire guards are available for smoke detectors, emergency lights, speaker/strobes, clocks, etc.
To order or for more sales information on the STI Horn/Strobe/Speaker Damage Stopper or the entire Stopper® Line, call 800-888-4784, fax 248-673-1246, email info@sti-usa.com or visit www.sti-usa.com.STI's address is: 2306 Airport Road, Waterford, MI 48327-1209.
Safety Technology International, Inc.
2306 Airport Road
Waterford, MI 48327-1209 USA
tel 248-673-9898
fax 248-673-1246
Contact This Company Download Spec Sheet
More from Health, Medical, & Dental Supplies and Equipment