GTM96180 Power Adapters are compliant to IEC 62368-1 standards.
Press Release Summary: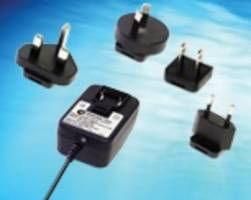 GlobTek's GTM96180 Power Adapters are offered in wall plug-in and desktop configurations with grounded and ungrounded input options. Units are designed with output voltages between 5 V and 48 V with full load output power rating of 11W.
---
Original Press Release:
The GTM96180 Power Adapter Product Line, Available in Wall Plug-In and Desktop Configurations
The GTM96180 power adapter product line, available in Wall plug-in and desktop configurations with grounded and ungrounded input options can be configured for a guaranteed output power limit of less than 15W. Output voltages between 5V and 48V are available, with a full load output power rating of 11W.
This output power level allows system compliance to the IEC 62368-1 standard, clause 6.2.2, for a PS1 energy source. Compliance with this clause eliminates system level risk mitigation techniques required by the standard for higher output power PS2 and PS3 energy sources.
The IEC 60601-1 medical equipment standard, clause 13.1, allows products powered by power sources with <15W to eliminate the need for a flame retardant fire enclosure/housing for the medical product
Background:
According to IEC62368-1 Electrical sources of heating can be classified into available power levels PS1, PS2 and PS3 (see 6.2.2.4, 6.2.2.5 and 6.2.2.6) that may cause resistive heating of both components and connections. These power sources are based on available energy to a circuit. Within a power source, a potential ignition sources (PIS) may arise due to arcing of either broken connections or opening of contacts (arcing PIS) or from components dissipating more than 15 W (resistive PIS). Depending on the power source classification of each circuit, one or more safeguards are required either to reduce the likelihood of ignition or to reduce the likelihood of spread of fire beyond the equipment.
To reduce the likelihood of injury or property damage due to an electrically-caused fire originating within the equipment, equipment shall be provided with the safeguards specified in Clause 6. The PS1 classification is a circuit where the power source, (see Figure 36) measured according to 6.2.2, does not exceed 15 W measured after 3 s.
ANSI_AAMI 60601-1 states:
The SINGLE FAULT CONDITIONS in 4.7, 8.1 (b), 8.7.2, and 13.2.2, with regard to the emission of flames, molten metal, or ignitable substances, shall not be applied to parts and components where:
The construction or the supply circuit limits the power dissipation in SINGLE FAULT CONDITION to less than 15 W or the energy dissipation to less than 900 J. Compliance is checked by drawing 15 W from the supply circuit for 1 min. If, after 1 min. the supply circuit can not supply 15 W, the circuit shall be considered to limit power dissipation to less than 15 W. The related design documentation is also be reviewed.
or
They are completely contained within a fire ENCLOSURE. Compliance is checked by inspection and evaluation of the design documentation to assure that the ENCLOSURE is constructed in accordance with 11.3.
More from Mechanical Power Transmission