GSM/GPRS Terminal enables wireless M2M communication.
Press Release Summary: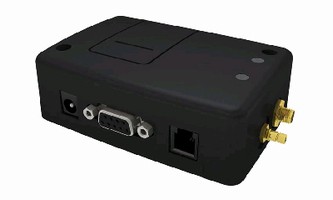 Operating from 7-35 Vdc, Terminus GSM/GPRS Control Terminal encapsulates everything required for wireless M2M capability. It includes 9 user-configurable GPIO, 1 ADC input, audio handset interface, RS-232 AT Command UART interface, and externally accessible SIM card socket. Terminal is suited for M2M telemetry and telematic applications, including fleet and asset management, vending, maintenance, and security and alarm monitoring.
---
Original Press Release:

Janus Announces the Launch of its New Terminus GSM/GPRS Wireless Terminal



Aurora, IL - June, 2007 - Janus Remote Communications, a designer, manufacturer and distributor of standard and custom M2M products, announces the release of its new Terminus integrated wireless terminal. The Terminus is an intelligent GSM/GPRS Control Terminal that encapsulates everything required for wireless M2M capability in one compact, cost-effective solution. M2M products and applications enable machines, devices, or vehicles to communicate via mobile wireless networks. Two different versions of the Terminal will be released: a standard Terminus and a GPS enabled Terminus.

In conjunction with Telit GSM/GPRS modules, the Terminus GSM864Q can host and control your wireless applications, minimizing the need for extra components. Alternatively, it can be used as a stand alone and powerful GPRS modem with its intrinsic TCP/IP stack.

"The Terminus breaks through the barriers to M2M communications by minimizing investment and reducing total system costs," states Ken Hartman, Chief Technologist for Janus. "Not only is it intelligent, but the GSM864Q is self-contained with its own SIM card reader and standard connector interfaces, reducing the need for further hardware expense."

Adaptable and easy to use, the Terminus is ideal for use in M2M Telemetry and Telematic applications including fleet and asset management, vending, security and alarm monitoring, maintenance and other telemetry applications.

The ease of use of the Terminus allows even commercial customers to provide M2M solutions in areas of safety, security and/or personal leisure (boating, caravans, hiking, camping, and even around the home).

Features:
o Nine User Configurable GPIO
o 1 ADC Input
o Audio Handset Interface (standard interface)
o RS-232 AT Command UART Interface (DB-9)
o User Selectable UART Interface (50-pin Header) or DB-9 Serial Command
o Power Supply Voltage Range 7 - 35VDC
o Internal Replacement Fuse
o Power Supply Connector
o Status LED
o Externally Accessible SIM Card Socket
o GPS Option

About Janus Remote Communications
Janus Remote Communications is a major global provider of products, technical support and custom application solutions for the M2M marketplace. Janus Remote Communications is a division of Connor-Winfield Corp, a privately held business in the Chicagoland area. Connor-Winfield, which began in 1963, is an international company with diversified businesses engaged in electronic component manufacturing, software products, contract manufacturing, and the distribution of M2M OEM components and end user product solutions. For more information about Janus, please visit our website and online store: www.Janus-rc.com.

Pricing: $137 to $218 each depending on quantity break for GPS Terminals
$97 to $168 each depending on quantity break for Non-GPS Terminals

For more information contact:
Janus Remote Communications
Dave Jahr
Tel: 630-499-2121
Fax: 630-851-5040
djahr@Janus-rc.com

More from Electrical Equipment & Systems