GSI Releases GENIUS 2.0 Platform for Monitoring Front- and Back-Office Applications
Press Release Summary: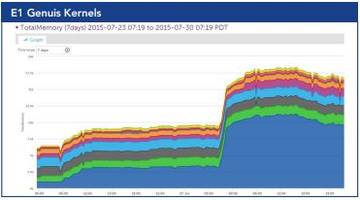 The GENIUS 2.0 provides a platform for companies to connect any business software package that features API collectable metrics and information in real-time or near real-time dashboard on a portal. This platform enables user to set own alert thresholds that are to be notified when an out of expectation behavior is encountered. It enables tools like chatbots and process automation based on machine learning.
---
Original Press Release:
GSI, Inc. Announces the Next Major Release of Their GENIUS Application Monitoring Service at INFOCUS Conference
GENIUS 2.0 Provides an Open Platform for Monitoring Front-office and Back-office Applications
ATLANTA (PRWEB) AUGUST 21, 2018 - GSI, Inc. today announced the latest release of its ground-breaking GENIUSApplication Monitoring Service at the JD Edwards INFOCUS Conference. With the new release, GENIUS 2.0 creates a platform for companies to connect any business software package that has API collectable metrics, and present that information in real-time or near real-time dashboard on a customer-facing portal. The conference is being held at the Sheraton Denver Downtown Hotel in Denver, Colorado from August 20-22.
The original version of GENIUS was a first-of-its-kind tool built to enable monitoring of infrastructure and application components associated with Oracle's JD Edwards ERP. "Our managed services clients found GENIUS so useful that they asked us to monitor more servers and a much wider range of applications, including add-on products such as DSI, BBSV, and others. Based on their feedback, we took a deep-dive into the underlying architecture of GENIUS to see how we could help. We found out that we could build something that was a lot more flexible and extensible," said Kevin R. Herrig, president and ceo of GSI, Inc. "We realized very quickly that GENIUS could be the foundation for a very powerful application monitoring platform that is vendor-agnostic."
"GENIUS 2.0 flexibility means that if your system exposes performance or other metrics through an open API, GSI can build a connector to it and provide that information in a single page along with data from nearly any other system you have," said David Telford, vice president of innovation. "You can now tie in your other non-JDE applications, IoT services such as Orchestrator, ITSM services, and CRM front-office data, as well as enabling tools such as chatbots and process automation based on machine learning. You can then set your own alert thresholds to be notified when behaviors fall out of expectations and take proactive steps to correct issues before they create expensive down-time. GENIUS 2.0 just changed the game."
GENIUS 2.0 is currently available to all of GSI's AppCare managed services clients but the company is investigating a subscription service to extend availability to beyond the AppCare program. GSI, Inc. will be providing demonstrations of GENIUS 2.0 at their booth during INFOCUS 2018 in Denver, CO this week.
About GSI, Inc.
As a certified Oracle Platinum Partner and a recognized industry leader, GSI, Inc. specializes in providing a broad spectrum of business, functional, and technical consulting services for Oracle JD Edwards, Oracle NetSuite, Oracle Cloud, Salesforce, ServiceNow, and other enterprise applications. The client-centric consultancy offers a comprehensive suite of solutions including AppCare, a 24/7 managed service; GENIUS, an advanced monitoring application; GENISYS, a solution for optimizing system performance; gShield, a comprehensive security solution; RapidReconciler®, its inventory reconciliation software; as well as JDE Cloud9, a complete cloud-based hosted service. GSI consulting services are backed by its signature 100 percent guarantee. Founded in 2004, the rapidly growing company is headquartered in Atlanta with locations nationwide. GSI, Inc. has been named to Inc. Magazine's Inc.5000 list of fastest growing companies for two consecutive years.
Contact Information
Bill Craig, Senior Manager - Marketing
GSI, Inc.
http://GetGSI.com
+1 (877) 474-4262 Ext: 730
Related