GS61004B-EVBCD Full-Bridge Evaluation Board comes with control pins.
Press Release Summary: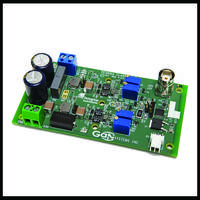 GS61004B-EVBCD Full-Bridge Evaluation Board is equipped with PE29102 gate driver. Unit offers integrated, resistor-adjustable dead-time control and propagation delay of 10–45 ns. Product comes with four GaN E-HEMTs and two E-HEMT drivers.
---
Original Press Release:
Richardson RFPD Introduces GaN Systems' New Full-bridge Evaluation Board, Optimized for High-frequency Switching and Class D Amplifiers
Collaboration between GaN Systems and Peregrine offers designers opportunity for significantly better performance in a smaller package
Richardson RFPD, Inc. announced today the availability and full design support capabilities for a new evaluation board from GaN Systems Inc. and Peregrine Semiconductor Corporation.
The GS61004B-EVBCD evaluation board combines GaN Systems' GaN E-HEMT with the ultrafast PE29102 gate driver from Peregrine.
Using this evaluation platform, designers can characterize the performance advantages that result from operating a Class D amplifier at a high switching frequency. Low dead time and subnanosecond turn-on/off yield a higher-efficiency design with less total harmonic distortion and EMI.
Additional key features of the GS61004B-EVBCD include:
Full-bridge with four GaN E-HEMTs and two E-HEMT drivers
GS61004B E-HEMT operable up to 100 MHz
PE29102 E-HEMT driver operable up to 40 MHz
Best-in-class propagation delay: 10–45 ns, depending on configuration
Optimized, Vcc independent, for matched dead time
Integrated, resistor-adjustable dead-time control
Control pins to evaluate phasing of each half-bridge circuit
Snubbers from each switch node to ground
To find more information, or to purchase this product today online, please visit the GS61004BEVBCD webpage: http://www.richardsonrfpd.com/Pages/Product-Details.aspx?productId=1250600&utm_campaign=GaNSys-GS61004B-EVBCD&utm_source=PR&utm_medium=ProductLink. The evaluation kit is also available by calling 1-800-737-6937 (within North America); or please find a local sales engineer (worldwide) at Local Sales Support: http://www.richardsonrfpd.com/content/english/contactus/Pages/SalesSupport.aspx. To learn about additional products from GaN Systems, please visit the GaN Systems storefront webpage: http://www.richardsonrfpd.com/content/english/aboutus/Pages/Suppliers-Storefront.aspx?supplierId=177.
About Richardson RFPD
Richardson RFPD, an Arrow Electronics company, is a global leader in the RF and wireless communications, power conversion and renewable energy markets. It brings relationships with many of the industry's top radio frequency and power component suppliers. Whether it's designing components or engineering complete solutions, Richardson RFPD's worldwide design centers and technical sales team provide comprehensive support for customers' go-to-market strategy, from prototype to production. More information is available online at www.richardsonrfpd.com.
More from Software