Grounding Tails come in 1-gallon pail.
Press Release Summary: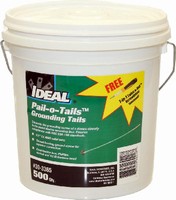 Supplied in re-closable pail, Pail-o-Tails includes five hundred 6.5 in., 12 AWG solid wire grounding tails. Pail is built to withstand elements, and moves with contractor from one jobsite to another without spilling or allowing dirt and moisture inside to damage tails. Once emptied, pail can be used to hold any number of additional supplies.
---
Original Press Release:

New IDEAL Pail-o-Tails Grounding Tails Provide Electricians a Convenient, Timesaving Solution



IDEAL offers Free Twist-a-Nut(TM) Screwdrivers as Introductory Promotion

SYCAMORE, IL, August 1, 2008 - Grounding tails are essential components in commercial electrical wiring systems. However, their packaging has left electrical contractors with just two options: buy smaller quantities and dispose of all the packaging, or purchase bulk product in cardboard boxes.

IDEAL today introduced its new Pail-o-Tails grounding tails. This re-closable one-gallon pail consists of 500 6.5", 12AWG solid wire grounding tails. Rugged and built to withstand the elements, the pail moves with the contractor easily from one jobsite to the next without spilling, taking up valuable space in the truck, or allowing dirt or moisture inside to damage the grounding tails. Once emptied, the pail can be used to hold any number of additional supplies.

According to Jeff Fors, Product Manager for IDEAL, the new Pail-o-Tails grounding tails also benefits the IDEAL distributor: "This innovative package now lets the distributor merchandise bulk grounding tails in the front of the store, rather than leaving them boxed up in the back. Their unique, eye-catching design means no display is required to encourage impulse buying. The pails can be stacked on the counter, floor, or shelf."

FREE IDEAL 7-IN-1 SCREWDRIVER

For a limited time, contractors who purchase Pail-o-Tails grounding tails will receive a free IDEAL Twist-a-Nut(TM) 7-in-1 screwdriver inside each pail. This timesaving tool features the most popular screwdriver bits used by professionals, along with a universal connector wrench formed into the bottom of the handle that accepts the industry's most popular twist-on connectors, including IDEAL Twister®, Wire-Nut® and Wing-Nut® and BUCHANAN B-Cap® connectors.

QUALITY DESIGN

Like all IDEAL grounding products, IDEAL Pail-o-Tails(TM) grounding tails ensure compliance with NEC standards. The thread forming ground screw provides excellent ground connection, plus offers a combination hex, Phillips, slotted and #2 Robertson head.

IDEAL Pail-o-Tails are immediately available at IDEAL distributors nationwide.

For more information, contact IDEAL INDUSTRIES, INC., Becker Place, Sycamore, Illinois 60178. Or phone 1-800-947-3614, Fax: 1-800-533-4483. On the web, www.idealindustries.com.

ABOUT IDEAL INDUSTRIES, INC.

IDEAL INDUSTRIES, INC. has been serving the electrical industry since 1916. IDEAL is one of the world's leading manufacturers of professional quality tools and supplies serving installation professionals in the construction, maintenance, data communications and original equipment manufacturing industries.

More from Mechanical Power Transmission