Grounding Indicator protects flammable liquids transfer.
Press Release Summary: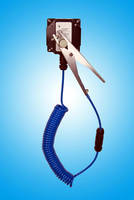 Earth-Rite PLUS(TM) grounding indicator system assures low-resistance path to ground to dissipate static electricity when transferring flammable liquids or powders. It includes retractable, 32 ft coiled grounding and monitoring cable, color coded blue for intrinsic safety, and which is chemical- and abrasion-resistant. Quick-Connect feature allows field replacement of cable or optional wide-jaw HD heavy-duty SS ground clamp that connects to all common tanks and vessels.
---
Original Press Release:

New Features and Options Enhance Static Grounding Indicator



The popular Earth-Rite PLUS(TM) grounding indicator system has been enhanced with additional features and options providing even more operational and safety benefits. The system is designed to provide a fail-safe assurance of a low-resistance path to ground to dissipate static electricity when transferring flammable liquids or powders to or from taker trucks, railcars, drums, various containers or virtually any other conductive equipment.

The new features include a optional HD heavy-duty stainless steel ground clamp, a retractable coiled grounding and monitoring cable, and a quick-connect design for fast field replacement of clamp or cable.

The new wide-jaw HD stainless steel clamp provides a universal method of connecting to all common mobile tanks and vessels. Stainless steel is used in the body, spring and fasteners of the clamp while the sharp contact points are made of tough tungsten carbide, able to cut through thick paint/coatings, rust or product accumulation. The clamp's contact arrangement ensures a contact with flat or curved surfaces while a special grip profile makes it suitable for direct connection with grounding posts, rods and pins. The HD clamp has been tested and approved as a static grounding device by FM for its electrical continuity, positive spring pressure, mechanical strength and resistance to high frequency vibration.

The retractable coiled grounding and monitoring cable is color coded blue for intrinsic safety. The Cen-Stat(TM) cable has a chemical- and abrasion-resistant outer coating which also has antistatic properties. Standard cable extended working length is 32 feet with optional lengths of 16 or 48 feet. A 50-foot self-rewind static ground cable reel with ultra-low resistance slip-ring contacts is also available.

The new Quick-Connect feature allows quick and easy field replacement of the HD clamp and/or retractable should they be damaged in service. The process requires no special skills or tools. This eliminates costly system downtime in fast-moving situation like tanker truck or railcar loading stations and reduces overall cost of maintenance and repair.

Like all Cenelectrex equipment, this new line is certified according to US, Canadian and European Hazardous Area standards and directives such as NFPA77 in the US and CLC/TR50404 in Europe.

This new Earth-Rite PLUS(TM) Grounding and Bonding system is just part of the Cenelectrex® range of static grounding and bonding equipment available from Newson Gale, Inc., the Lakewood, NJ based specialists in hazardous area static control.

For additional information, contact: Newson Gale Inc., 1072 Madison Ave., Lakewood, NJ 08701. Phone: 732-987-7715. E-Mail: info@newson-gale.com. Website: www.newson-gale.com

More from Electrical Equipment & Systems