Grooving/Parting Inserts have one-edge design.
Press Release Summary: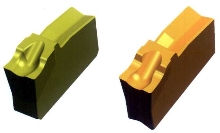 Available in various cutting directions, ValGROOVE(TM) Grooving and Parting Tool System includes inserts offered in 2 chipbreaker geometries and 4 grades. VSG-FG inserts have general-purpose geometry that minimizes vibration in grooving and parting operations. Also available, VSG-CG inserts utilize combination of cutting geometry, corner radius, and lead angle for parting applications. They are suited for small-diameter workpieces.
---
Original Press Release:

New Grooving/Parting Inserts Expand Range of Applications


Valenite has recently added more than 60 new insert selections to its ValGROOVE(TM) Grooving & Parting Tool System to provide a broadened array of tooling performance options. The introduction of the new inserts follows and complements the new series of 14 toolholder designs introduced by Valenite in 2004, and augment the more than 300 existing insert configurations already in use in the ValGROOVE line. The new inserts are offered with two separate chipbreaker geometries and in four grades for a wide variety of applications. The tool grades include two multilayer PVD TiAlN/TiN coated versions, the VP5815 and VP5820 grades for roughing to general finishing applications, a CVD TiCN/Al2O3/TiN coated VP5735 grade ideal for roughing to general machining needs, and the uncoated VPUK20 grade for general machining to finishing of aluminum and other non-ferrous materials, high temperature alloys, and cast irons.

The new grooving and parting inserts are all one-edge design, available with a variety of cutting widths, cutting direction (right, left, or neutral) lead angle and seat size. The expanded insert geometries include:

o VSG-FG Designation-This style insert is a general-purpose geometry for all types of grooving and parting operations. It features a corner radius and cutting geometry that can lower cutting forces and minimize vibration, making it ideal for parting tube materials. This geometry effectively controls chips under moderate feed rates, and works well with stainless steels, low carbon steel and other difficult chip handling materials. Valenite currently offers 34 variations of the VSG-FG insert, with over 40 more scheduled for release by summer of 2005.

o VSG-CG Designation-The VSG-CG inserts perform especially well in parting applications and for small diameter workpieces. The insert is well suited for stainless steel, non-ferrous alloys, ductile or work hardening materials, and other low feed rate applications. The VSG-CG provides a unique combination of cutting geometry, corner radius and lead angle for parting applications that can significantly minimize pips and burrs on component ends. There are 30 versions of the VSG-CG inserts currently available.

The entire ValGROOVE Grooving & Parting System includes a vast array of inserts in both single edge and double edge configurations, plus CBN and PCD tipped inserts, that can be applied to steel, stainless steels, cast irons, high temperature alloys, aluminum and non-ferrous alloys, and hardened workpieces. The insert selection is combined with over 24 ValGROOVE toolholder families that contain parting blades and blocks, small shank holders for low power machines, systems for shallow and deep grooving, high rigidity turning and profiling holders, ID grooving and turning bars, and face grooving tools. There are also two holder designs that work with Valenite's VM modular quick-change connection tools and Econ-O-Groove® shanks.

As with all Valenite products, the ValGROOVE Grooving & Parting System tools are supported through the company's top-rated ValPro(TM) Customer Service for ordering, pricing and delivery scheduling, plus a technical staff offering continuously updated product and application data, and providing recommendations that optimize metal cutting productivity.

Valenite, headquartered in Madison Heights, Michigan with sales and service operations worldwide, is one of the largest suppliers of industrial cutting tools in the world. The company offers a complete line of standard and special indexable-insert turning, milling, grooving, threading, boring and drilling products to a variety of industries. Its product line also includes the ValCOOL® line of cutting fluids. In addition, special high-production tooling for custom machining systems is produced under the MODCO® name and a full range of inline, process and bench gaging systems is produced under the GAGING Systems name.

More from Electrical Equipment & Systems