Grippers can handle moving magnetizable work-pieces.
Press Release Summary: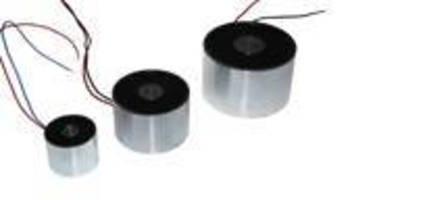 Fitted with permanent magnets, magnetic grippers provide secure handling of heavy work-pieces even without vacuum cups. IP65 rated unit has maximum operating temperature of +80°C and does not allow any work-pieces to fall, even during power failure. When they are energized, reverse polarity cut-off coil neutralizes magnetic field and unit releases work-piece at desired location. Adapters are available for thread sizes G1/8 and G1/4.
---
Original Press Release:

Ingenious: (Permanent) Magnet Grippers Retain Their Grip Even in Case of Power Failure



FIPA Inc. provides secure handling of heavy work-pieces even without vacuum cups.

FIPA Inc. offers an ingenious solution especially for moving magnetizable work-pieces: If it is difficult or impossible to handle plain and perforated sheets using vacuum cups then the new magnetic grippers, fitted with permanent magnets, are an appropriate alternative.

The magnetic grippers hold the work-pieces permanently and securely: Nothing happens if the power supply fails and the work-piece remains attached to the gripper. Power is required merely to release the work-pieces. This conserves energy. The magnetic grippers are fitted with a reverse polarity cut-off coil. When they are energized, the cut-off coil neutralizes the magnetic field and the gripper releases the work-piece at the desired location.

Compared to other technologies, which utilize magnetic holding forces only in conjunction with pneumatic systems, the permanent magnet has a distinct advantage, since it does not allow any work-pieces to fall in the event of power failure - and, thus, prevents accidents and damage, which would be pre-programmed in conventional grippers in such an eventuality.

Yet another advantage: No cumbersome pipes to the vacuum or compressed air supply lines are required as compared to the above-mentioned technologies. This is an ideal feature when there are space constraints in the production area. The magnetic grippers are extremely powerful, but, nonetheless, small in size. It is almost impossible to make them any smaller.

A wide range of sizes takes the most varied of applications and tasks into account. There are adapters available for the thread sizes G1/8 and G1/4. As a result, it is no problem to undertake any modification or expansion of existing plants using this gripper technology. The system can also be fitted with spring plungers for simpler positioning of the gripper on the work-piece.

Technical Data:

Operating voltage for the cut-off coil: 24V DC +5% to -10%
Connection using free ends of wires
Protection class: IP65 conforming to DIN 40 050
Insulation class: E
Max. operating temperature: +80°C
Power on time: 25% power on time for < 2 min., 40% power on time for < 0.5 min.

Sabine Heuser
Head of Marketing
FIPA Inc.
5000 West Park Drive, Suite 100
Atlanta, GA 30336
Phone: +1 (800) 9137002
Fax: +1 (678) 5289530
mailto:sheuser@fipa.com
http://www.fipa.com

More from Optics & Photonics