Gripper Fingers feature carbon fiber bodies.
Press Release Summary: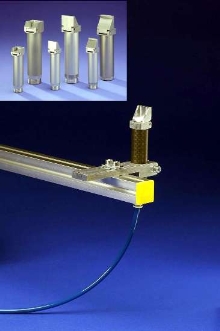 Suited for high-speed production runs requiring lightweight tooling, Series GRF and GRW feature 20 mm clamping diameter and are available with carbon fiber body and aluminum head and connector bottom. Lightweight carbon fiber minimizes weight of shaft and robot wear and tear. Flex of carbon fiber, or strength being measured in modulus of elasticity, is up to 3 times that of aluminum.
---
Original Press Release:

>SAS< Automation Introduces -- Carbon Fiber Gripper Finger


Xenia, OH (July 1, 2005), >SAS< Automation, a world leader in Robotic End-of-Arm Tooling has introduced a new line of robotic gripper fingers with lighter weight carbon fiber bodies - ideal for high speed production runs requiring extra lightweight tooling with high strength. Reducing the weight of the shaft with carbon fiber reduces robot wear and tear while at the same time, providing a tool that can accommodate extremely high weights - a requirement of processors with extra big and bulky parts. Available upon request for use in conjunction with >SAS< VLR Extension Arm for adequate clamping force while mounting in high load conditions.

Since the introduction of lighter weight carbon fiber robotic gripper arms for special high speed applications, >SAS< has incorporated this technology into its standard pneumatic finger gripper components. The strength of this component is actually increased with weight reduction. The complete line of SAS's standard gripper fingers, such as the GRF and GRW series, with a 20 mm clamping diameter, is available upon request with a carbon fiber body. The gripper finger head and connector bottom is still of aluminum material for durability.
Advantages include:

o Weight of carbon fiber when compared to aluminum is up to one third less. In this case, the weight savings are 7% on the GRF 20-95 Gripper Finger, which can add up to a significant weight savings on gripper assemblies requiring multiple fingers.

o Flex of carbon fiber or strength being measured in modulus of elasticity, is up to 3 times that of aluminium. Actual stiffness is expected to be at least twice that of current aluminum shafts.

"The application of this technology of utilizing carbon fiber gripper finger bodies is another example of how >SAS< Automation continues to introduce innovative lightweight end-of-arm tooling components that help increase speed, efficiencies, and reduce robot wear. As robots are increasingly asked to do more, reducing the weight of the EOAT helps to meet this new mandate", said Richard Petz, SAS General Manager.

About >SAS< Automation
Leading supplier of modular EOAT modular components & robotic gripper systems capable of servicing any part and any robot. >SAS< manufactures in the USA "get a grip!", and distributes "nip it!" Nile sprue nipper line, and "GRIP IT!" Asian chucking/gripper line. Specialists in robotic EOAT and gripper systems, sprue nippers, CNC degating and Insert Molding tooling for manufacturing and plastics industries. >SAS< German office services European market. Sales and support: USA, Canada, Mexico, Europe. ISO 9001:2000 registered.

More from Software